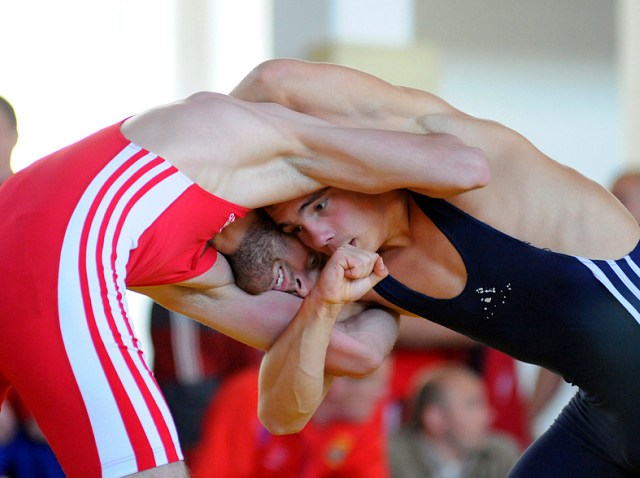 What Exactly Happens at a "Wrestling Club"? was originally published on The Sexist on Oct. 28, 2009, at 11 a.m.

A sign on a nondescript building at the intersection of 14th and Corcoran streets N.W. has no doubt caused its share of confusion. Here's what it says: "D.C. Wrestling Club, Inc. remains open for business, however there will be no Men's Parties until further notice."
Passersby are now aware that the building has got wrestling, but no parties. What the hell does that mean?
As it turns out, only those steeped in the doings of the city's Department of Consumer and Regulatory Affairs (DCRA) know what's going on here. The cryptic sign fronts 1618 14th St. N.W., the hosting address for something called "Men's Parties," a nightly anonymous-sex event that provided mattresses, glory holes and snacks for a $14 "donation." On Oct. 4, a reveler at one of those parties died after apparently falling down a set of stairs. The accident prompted the city to temporarily shut down the "Men's Parties."
For now, hard-up, often-closeted gay men are no longer slipping in and out of 1618 for no-questions-asked romps.
Quashing a clandestine sex club, however, doesn't happen without some legal complications. For about 15 years, an organization called the D.C. Wrestling Club has served as the administrative front for Men's Parties. At the time of the man's death, the D.C. Wrestling Club was not open for business -- its domestic nonprofit status had been revoked by the DCRA, a result of lapsed paperwork.
But in the meantime, the club refreshed its filing with the DCRA, reclaiming its (largely symbolic) corporation status. When the city secured its temporary restraining order against the D.C. Wrestling Club, it required club president David J. Butler to post that peculiar sign on the club's front door.
The D.C. Wrestling Club has been restored, but it can no longer serve as a front for sexual activity. So what does a real "wrestling club" do?
According to the club's 1994 articles of incorporation, the organization was meant to provide a "social club" for "sports enthusiasts, especially of collegiate wrestling." An old online advertisement posted on a gay wrestling Web site expands on the club's activities:
"The DC Wrestling Club grapples Tuesdays from 7:00 p.m. to 9:00 p.m. and Sundays from 12:00 p.m. to 3:00 p.m.," it reads. The advertisement boasts one amenity: "New mats." According to the ad, "all skill levels welcome"" but members must be over the age of 18. The style of play "ranges from rulebook, to submission, to slower paced back and forth workout ... whatever two guys want to do."
The "rulebook" technique sounds traditional enough. And "submission," despite its sexual connotations, is also a form of wrestling that requires the loser to signal his defeat, verbally or physically, in order to end the match. But given the sport's homoerotic potential, it wouldn't be difficult for a private wrestling match to lead to "whatever," and that's where the line between the D.C. Wrestling Club and "Men's Parties" becomes unclear.
The advertisement appeared on the Web site of Metro Wrestling, which bills itself as a "gay-friendly freestyle wrestling club for adults" based in New York. Metro Wrestling is big on wrestling, low on the whatever. Like the D.C. Wrestling Club, Metro Wrestling advertises biweekly practices -- enough to ready its members for competition in such international contests as the Gay Games and Outgames.
Brent Minor, who heads up the District's gay sports teams for an organization called "Team DC," says the District's gay wrestling scene lacks a competitive arm. Team DC coordinates gay rock-climbing, cheerleading, and water polo teams, but Minor says that the D.C. area has "no real wrestling team to speak of."
Copyright CITYP - Washington City Paper