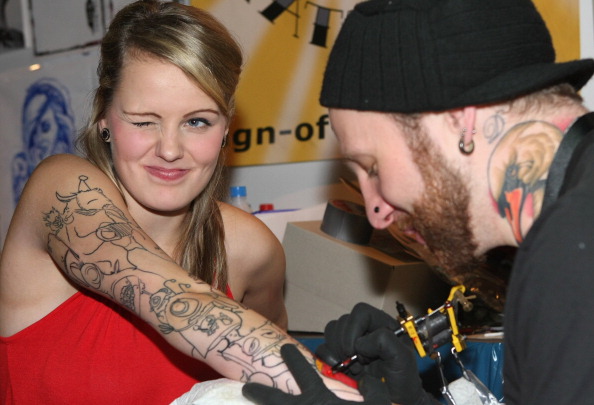 What are you doing this week? We offer up our favorite picks for the five days ahead:
---
MONDAY, JAN. 9:

D.C. Restaurant Week kicks off, running through at least Jan. 15, with some spots extending their deals. Some tried-and-true participating spots include RIS, Bistro Bis, Zola and Vermillion. (See all participating restos here.) Three-course lunches $20.12; three-course dinners $35.12, not including tax, tip or drinks.
Middle Earth Mondays begin at the Black Cat Backstage (1811 14th St. NW), with one "Lord of the Rings" film showing each week through Jan. 23. This week's screening, of course, is the first movie, "The Fellowship of the Ring." 8 p.m. doors; free.
This month's Nine on the Ninth poetry event at Busboys & Poets (2021 14th St. NW) corresponds to the 30 Americans exhibition at the Corcoran Gallery, which profiles the work of some of the most important African-American artists of the past 30 years. Poets will read a work of their choosing, plus a 30-word poem written for the event. 9 p.m.; $5 suggested donation.
---
TUESDAY, JAN. 10:

Hit up the Create Your own Cocktail Contest at Yamas Mediterranean Grill (4806 Rugby Ave., Bethesda), where you can take a chance at eternal fame (OK, maybe that's a bit much). Go for a taste test with other bar patrons, and drop your recipe in their contest boxx. At the end of the month, scores will be tallied. The winner gets the drink named for him or her, and it'll be featured throughout February. No cover; competition $6; starts at 4 p.m.
The Red Palace (1212 H St. NE) is now serving food, and Frozen Tropics reports the menu doesn't disappoint. Go for gourmet burgers, mac & cheese, crab & artichoke dip, wings and plenty more. Tuesday night also features $3 rail drinks, Miller Lites, PBRs, Yuenglings, Abita Restoration Pale Ales, and Long Trail Amber Ales. 5 p.m. doors; no cover.
Learn about meditation with an intro workshop with Gerry Gorman and David Newcomb at the Cleveland Park Neighborhood Library (3310 Connecticut Ave. NW). If you can't make it this week, consider next week's on Tuesday, Jan. 17. 7 p.m.; free.
---
WEDNESDAY, JAN. 11:

901 Restaurant & Bar (901 9th St. NW) has kicked in new specials for 2012, including Martini Wednesdays. Get over Hump Day with 901's Featured Martini of the Day on Wednesdays, ($6 each). 901 will select a new favorite each week. 11 a.m.-11 p.m.; no cover.
Uncovering the Secrets of Today's Job Market may not be as exciting as the upcoming D.C. Tattoo Expo, but hey, at least it's practical. He'd at Sixth & I Historic Synagogue (600 I St. N.W.), the workshop offers tips on making your resume a quick read, uncovering "hidden" jobs, navigating a career change and more. 7 p.m.; free.
---
THURSDAY, JAN. 12:

Finally! The D.C. Tattoo Expo returns to, well, not D.C., but the Crystal Gateway Marriott (1700 Jefferson Davis Highway, Arlington), through Sunday, Jan. 15. Go for live entertainment, Miss D.C. Pin-Up, vendors, a tattoo and body-piercing contest, skateboard art contests and more. 8 p.m.; $20-$45.
Winemaker Alie Sharper and sommelier Alison Christ head to Northside Social (3211 Wilson Blvd., Arlington) for an evening of wine tastings from BOE (Brooklyn Oenology) and New York-influenced small plates during the New York Wine & Food Experience. 7 p.m.; $40.
Jodi Kantor, author of new book "The Obamas," shares a dialogue with David Brooks at Sixth & I Historic Synagogue. "The Obamas" arrives from the publisher Jan. 10; you can pick up books and tickets at Politics & Prose Jan. 10 or 11. On Jan. 12., remaining books and tickets will move to 6th & I. 6 p.m. doors; 7 p.m. event. Tickets $8; signed book with one or two tickets $29.99.
---
FRIDAY, JAN. 13:
The International Motorcycle Show 2012 roars into the Washington Convention Center (801 Mount Vernon Place NW) for three days of entertainment, including a stunt show, a custom bike competition, test rides, vendors offering aftermarket accessories and more, through Sunday, Jan. 15. Fri. 4-9 p.m.; Sat. 9:30 a.m.-8 p.m.; Sun. 10 a.m.-5 p.m. One-day admission $20; three-day pass $30.
Is your New Year's Resolution to rely on Autocorrect less? Well, probably not, but don't let that keep you away from the Rock & Roll Spelling Buzz at the Rock & Roll Hotel (1353 H St. NE), where you must have a drink in your hand to compete. Word lists include 4th-9th grade, theme and dirty. And "$6 gets you a 16oz PBR and a Shot of crap whiskey till it's over!" First place is a $60 bar tab. Signup starts 6 p.m.; first 40 people play at 8 p.m.; no cover.
---
ALSO SEE:

---
Check Out the Scene: Keep up with what's happening in the D.C. area anytime, anywhere. Follow us on Twitter and Facebook. Sign up for our e-mail newsletters.