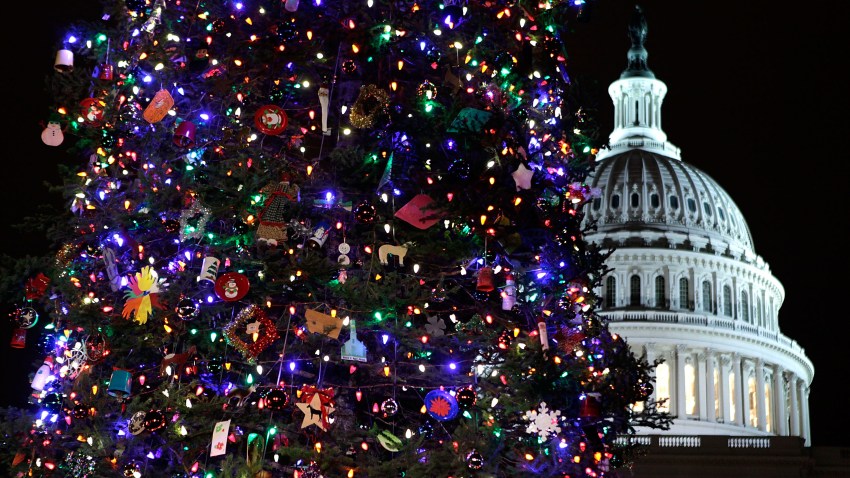 This year's Capitol Christmas tree will be an 85-foot blue spruce from Arizona's White Mountains. Want to see a picture of it? Too bad. That's not allowed for security reasons.
That's right, the exact location of the tree apparently is being kept a secret, and no images of the tree are being released. Instead, the U.S. Forest Service released a photo of some people looking at another tree in the same forest. Sneaky, eh?
"In talking to the superintendent of the Capitol grounds, their concern is they just don't want to see any damage to the tree," Jim Payne, spokesman for the U.S. Forest Service, told the Arizona Daily Star. "It is a security issue. Once you start moving it across the country, it will have 24-hour security with armed law enforcement."
That's classic Washington, is it not? Even our trees need armed guards to protect them from evildoers.
"There has apparently been vandalism or threats of vandalism in the past -- like decades ago," Payne told the Daily Star.
Ted Bechtol, superintendent of the grounds of the U.S. Capitol, is one of the men in the picture with the fake Capitol tree. He made the final selection on the real Capitol tree this week after reviewing 10 candidates from the Apache-Sitgreaves National Forest.
Bechtol didn't spend long looking at the winning tree. He said it's nice and tall, has good color, no obvious defects and is one of the fuller trees he saw. But Bechtol said the tree's 27-inch trunk diameter might pose a challenge in transporting it to Washington after it's cut in early November.
The tradition of having states provide a Capitol Christmas tree started nearly 40 years ago, and this year is the first year that the tree will come from Arizona.
Just don't go looking for it. Capiche?
Copyright AP - Associated Press