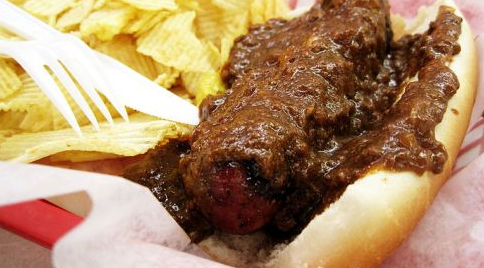 Anthony Ulysses Holmon, a former employee of D.C.'s venerable Ben's Chili Bowl, is opening his own half-smoke hotspot called D.C. Chili Bowl.
Holmon says he'll be serving kosher hot dogs -- an apparent affront to Ben's brass, which he describes as hostile to change. The existing half-smoke emporium, in business 52 years, serves only non-kosher franks.
"I believe the Hebrew hot dog is a better-tasting beef dog; plus it's a kosher product," Holmon tells WTOP. "You want to offer the product to everybody, all nationalities. That will add another layer of customers."
Holmon is looking to open his own shop along trendy H Street NE -- the same neighborhood where his former employer is planning to open its own half-smoke outpost.
Photo by bionicgrrrl/Creative Commons Attribution-Share Alike 3.0 Unported license
Watch Out, Ben's! Half-Smoke Vet To Open His Own Chili Bowl was originally published by Washington City Paper on Feb. 14, 2012.
Copyright CITYP - Washington City Paper