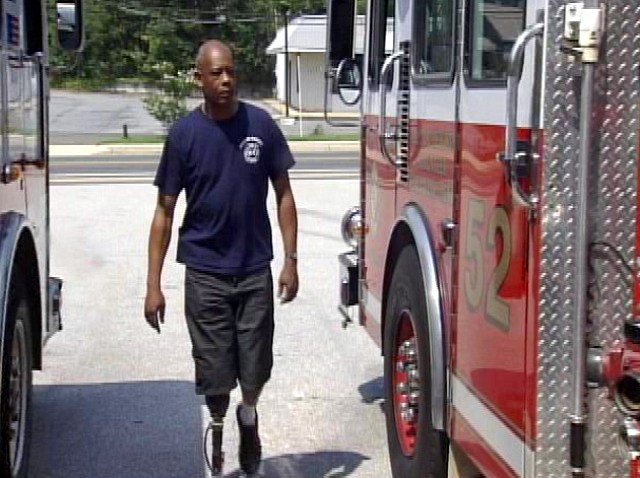 He put his life on the line to protect the nation. Now Lt. Dwayne Frost, Sr. is back in Prince George's County to put his life on the line for the local community once again.
Frost returned to active service with the Capitol Heights Volunteer Fire Department on Tuesday, after spending years recovering from serious injuries he sustained from a suicide bomber's attack in Iraq. As a result, he lost his right leg.
Frost initially left the fire department to join the D.C. National Guard after the Sept. 11 attacks. He later went on to serve in the Army's 82nd Airborne Division, which put him on the front lines of the war in Iraq.
It was July 23, 2003 when Frost found himself in downtown Baghdad near a high-ranking member of the Iraqi regime. A suicide bomber struck Frost's humvee, leaving him seriously wounded.
Frost went through extensive surgeries to survive, but doctors eventually had to amputate his right leg below the knee. Years of recovery would follow, but somewhere along the way, Frost decided he was not done putting himself in harm's way to protect others.
He fought to retrain as a firefighter, learning to run, jump and climb with a prosthetic leg. Now, he says he can do it all again, and do it better than some with two legs.
"I didn't want nobody to look at me as being disabled, but [as if it was] just a mishap," Frost said on his first day back at the fire station. "Everything that I was told I couldn't do, I've actually proved everybody wrong."
For now, Frost says he won't be allowed to go into fires. He'll be limited to exterior operations and EMS duties only. But he says he's come to terms with some of the limitations. What's clear now is that his work ethic and spirit have no limitations.
"All I want to do is get back to work, doing what I love doing," said Frost. "Firefighting."
---
Fan, Follow and Text: Get the latest from NBCWashington.com anytime, anywhere. Follow us on Twitter and Facebook. Sign up for our e-mail newsletters and get breaking news delivered right to your mobile phone -- just text DCBREAKING to 622339 to sign up. (Message and data rates may apply.)