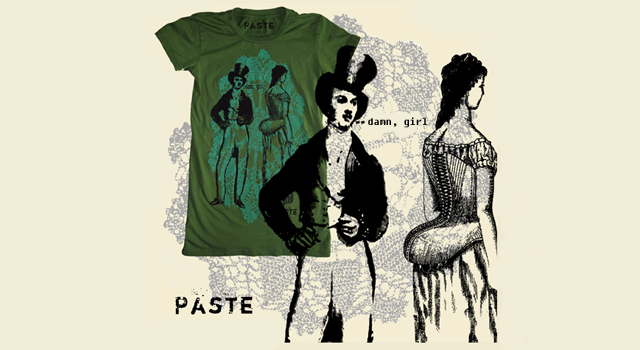 Nancy Reagan is all blinged out but missing a tooth, advising us, "Just say yo." A gangsta version of Sigmund Freud, donning a red bandana, fans himself with a stack of $20 bills. And then there's the T-shirt decorated with a hand-drawn illustration of ... a T-shirt. Yep, we're officially in love with PASTE tees ($32 each), which are funny, subversive and unexpected. Go check out that one with the famous portrait of Abe Lincoln -- except in PASTE's version, Honest Abe's wearing an eyepatch and chillin' with a parrot. Yeah, that one is actually already in our closet. Available in men's and women's sizes, the shirts are available at Shine Collective (1007 W. 36th St., Baltimore), or you can order online.



Wrist cuffs are one of our fave accessories for guys right now. Go big and blingy, or rustic and rugged. We're not sure why, but this cuff on Etsy.com ($18) -- made from a recycled black leather belt -- has an antique silver focal that's just making us think "Lord of the Rings" nerd. But in a good way. Honest.



We say wine is for drinkin', not displayin', but we've also heard mumblings that sometimes it's good to let wine sit and age for awhile. Like years. Pshaw! We tend to be "day-of" kinda people, but if you need that perfect accent to your fancy dining room, we suggest the Wine Knot -- get it? get it? -- available at Tabletop (1608 20th St. N.W.) for $130. Made of birch and walnut, it handily holds six bottles in a compact 12" x 12" x 8" space. We challenge you, though, to look at a bottle of wine in this gorge display and not go running for a corkscrew.