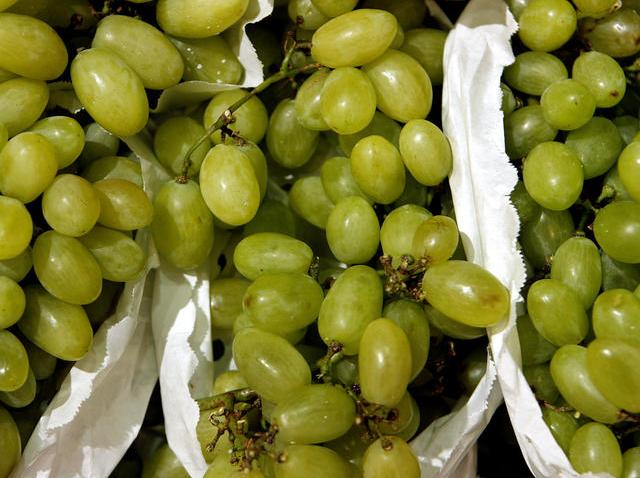 They might not pick as many white grapes at Villa Appalachia in Floyd County this fall, but the harvest should make for better wine.
The cool weather has given the Italian-style vineyard's white grapes good aroma, winemaker Susanne Becker said Tuesday. But persistent rain in May washed away much of the pollen and blossoms needed to produce fruit.
Winemakers in Western Virginia say they are harvesting fewer-than-expected quantities of their white grapes this month because of rain and overnight chills in May. However, many still are producing high-quality fruit.
"The vintage is not good, but the wine will be good," Becker said. "It's not ideal; you will not want to have a year like this again, at least where we are."
Of Virginia's more than 140 wineries, more than a dozen dot the landscape from Rockbridge County to Wythe County. Not all vineyards in the region experience the same climate, even if they're nearby one another. Tiny differences complicate the situation, with grapes' quality and abundance dependent upon soil, amount of sunlight, humidity, vineyards' elevations and how crops are managed, among other factors, said Bruce Zoecklein, a Virginia Tech professor and enologist, or grape and winemaking expert.
Kody, the golden retriever-yellow Lab that helps out at Blue Ridge Vineyard in Eagle Rock, turns off lights and picks up trash.
But even he can't make grapes grow.
The Botetourt County vineyard lost 30 percent to 40 percent of its Riesling grapes after an "unusual" freeze in mid-May caused the fruit blossoms to fall off their vines, owner Jim Holaday said.
Holaday said he isn't worried about business, despite the shortage this year. He has white wine reserves from past vintages. And the vineyard, which has finished harvesting, has had "an excellent year so far," he said.
The West Wind Farm Vineyard and Winery in Max Meadows, about 100 miles southwest of Blue Ridge Vineyards, lost all of its Riesling grapes because of the May chill. General manager David Manley said he had expected 2 to 4 tons this year, based on past harvests.
"We're going to have to find some fruit to make Riesling with," he said, referring to the wine that became their best-selling bottle when it was introduced this spring. "Growing them isn't free, but buying costs a little more."
Chateau Morrisette, one of the largest wineries in the region, bought Traminette grapes and crushed them on Tuesday afternoon.
Dan Tallman, the principal winemaker at the Floyd County operation, noted the unique acid chemistry of this season's white grapes, amounting to a good season despite the smaller harvest.
Zoecklein, who regularly works with Virginia grape growers and winemakers, said that description applies to Virginia in general.
"The white grape quality is superb -- better than the previous year in regard to the intensity of flavors," he said.
Quality, in Zoecklein's terms, refers to the strength of "grape volatiles," or the aroma and flavor of the fruit. In other words,
it's what you smell when you sniff a freshly poured glass.
This year's white grapes from Virginia have about 15 percent more volatiles than in the past two years, he said. Zoecklein's assessment comes mostly from examining chardonnay and Viognier grapes. It's too soon to tell the quality of red grapes this year, he added.
Villa Appalachia saw especially aromatic malvasia bianca grapes this year, Becker said. The vineyard blends the type with Moscato and Gewurztraminer to make its most popular table wine, Simpatico.
Becker predicted she'll make about 200 cases of Simpatico this year, 100 cases fewer than in past years. Villa Appalachia will make less pinot grigio, too, with 400 cases this year compared with 500 from normal vintages.
White grapes typically are ready earlier in the summer than most red varieties. When they're harvested -- sometimes by hand -- winemakers pour them by tons into machines that separate the stems from the fruit, then crush and press it into juice. This plus yeast ferments in tanks or barrels for at least a few months, sweetening into wine that's ready to filter and bottle. (Red grapes, which take longer to age into wine, ferment before pressing so the crushed fruit's skin adds scarlet color.)
Overall, Becker said she expects to bottle 1,800 cases of red and white wines this season, almost one-third less than the 2,500 total that's normal for Villa Appalachia.
"But we don't know yet; we don't know if we'll have a hurricane coming before the red cases," she said. "The red grapes are still hanging, and we're praying for dry weather."
Copyright AP - Associated Press