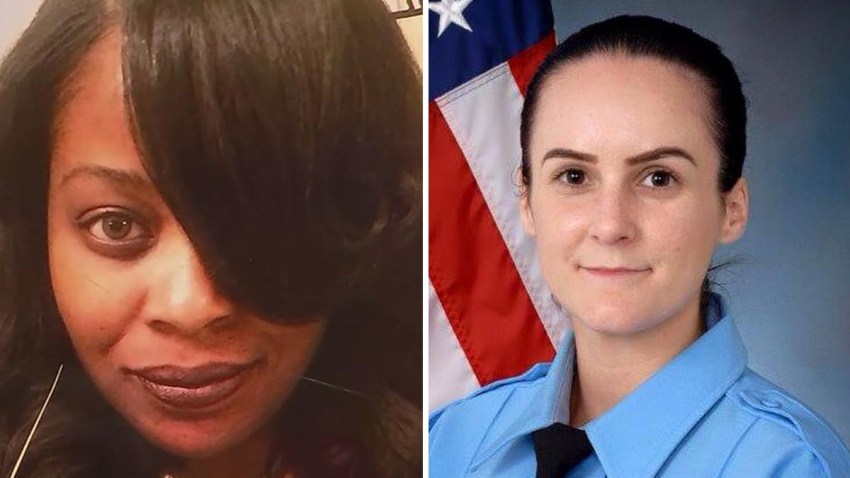 A jury found a Virginia man guilty of capital murder for killing his wife and a rookie police officer working her first shift in 2016.
Ronald Hamilton, 34, of Woodbridge also was found guilty of attempted murder and assault using a firearm for shooting two other police officers.
Jurors heard evidence that 29-year-old Crystal Hamilton called 911 in February 2016 after her husband struck her and slammed her to the floor. Jurors heard the 911 call which ended with Crystal Hamilton pleading, "Stop!" Prosecutors said Ronald Hamilton shot his wife four times with a Glock handgun.
Several Prince William County police officers responded to the 911 call. The officers tried to enter the house to check on Crystal Hamilton's welfare, but Ronald Hamilton refused to let them in. One of the officers then kicked open the front door, only to find Hamilton crouched with an AK-47 rifle opening fire. All three officers who initially responded to the home were struck, including 28-year-old Ashley Guindon, who had just been sworn in as an officer. Officers Jesse Hempen and David McKeown, who testified at the trial, survived but suffered serious injuries.
Gene Hart, one of Hamilton's public defenders, acknowledged to the jury during Tuesday's closing arguments that Hamilton is guilty of the slayings. But he argued that the killings lacked the premeditation necessary for a capital-murder conviction and possible death penalty. Instead, he urged the jury to convict on lesser charges of either second-degree murder or voluntary manslaughter, saying Hamilton was acting in the heat of passion.
Prosecutor Richard Conway said the most obvious evidence of premeditation is the fact that Hamilton selected a Glock handgun to shoot his wife, and then upgraded to a more powerful AK-47 rifle in preparation for the anticipated police response.
The sentencing phase, which likely will involve several weeks of testimony, begins Monday. Jurors will consider two options: execution or life in prison.
Copyright AP - Associated Press