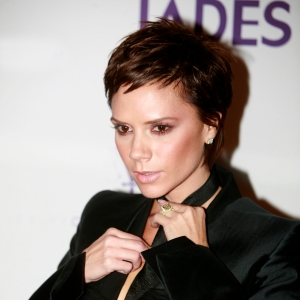 Victoria Beckham has gone from being a Spice Girl to the wife of soccer superstar David Beckham and a fashion icon in her own right, but she still has fond memories of her days as a pop star.
"What we did was fantastic," she told Time magazine. "I'm very respectful of the Spice Girls. But fashion is my passion; music isn't anymore."
VIEW THE PHOTOS: See Victoria Beckham In Her Sexy Underwear Photo Shoot!
The five-girl group made a splash in the '90s with hits such as "Wannabe" and "2 Become 1," and reunited for a brief world tour in 2007 and 2008. Since then, Victoria has moved into fashion design, including her own denim line, dVb Style.
And though her style has changed over the years, she's not embarrassed by her old looks.
VIEW THE PHOTOS: The Beckhams — Posh & Becks!
"People always say, 'Do you cringe?' And I say, 'Not at all,'" she said. "Everybody changes. I love fashion, and I love changing my style, my hair, my makeup, and everything I've done in the past has made me what I am now. Not everyone is going to like what I do, but I look back at everything, and it makes me smile."
When it came to the subject of her recent sexy Armani underwear ads, she said, "I love those pictures."
"I worked very hard," she added. "So when I'm 50, I can look back and say, 'Hey, Mommy didn't look too bad after having three kids.'"
Related Content from AccessHollywood.com:
VIEW THE PHOTOS: The Spice Girls: Then & Now
PLAY IT NOW: The Beckhams Launch Their Signature Fragrance Collection
PLAY IT NOW: Stars Come Out For Victoria Beckham's Birthday Bash (April 20, 2008)

MORE ACCESS ON THESE TOPICS: Victoria Beckham - Brits - Style - Celebrities

Copyright NBCAH - Access Hollywood