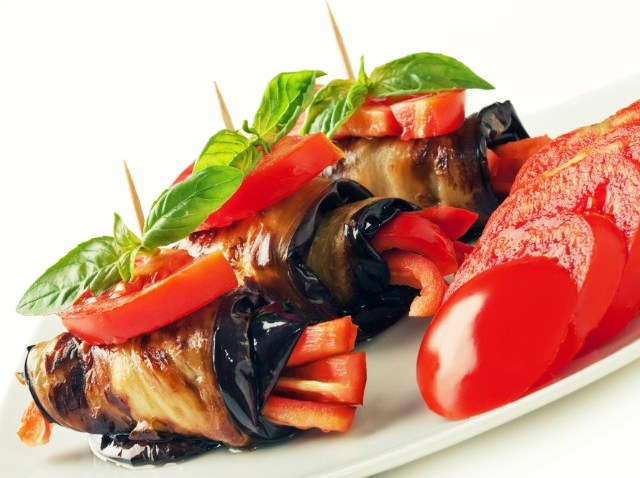 Inspired by an international campaign to lighten meat-heavy menus, local restaurants are beginning to embrace Meatless Monday. Never heard of it? The weekly event was highlighted in a Grub Street post this morning, which heralds vegetables as "the new meat," citing several hopping New York City establishments.
While we aren't going to go that far, veggie-friendly fare isn't something to ignore. Part of the movement's success is thanks to star power -- veggies count among its supporters Mario Batali, Jamie Oliver and D.C.'s own Jose Andres. Heck, "Iron Chef" even featured its first-ever vegetarian battle recently (it was broccoli).
However, as popular as Meatless Monday reportedly is up north, the trend has yet to catch on in D.C. Around town, only two restaurants -- Nage (1600 Rhode Island Ave. N.W.) and Bread and Brew (1247 20th St. N.W.) -- offer special Meatless Monday menus.
Nage's chef Glenn Babcock says that the city's reluctance to embrace vegetarian fare is, in part, because "D.C. is still a meat and potatoes town." Though he believes the District is on its way to becoming a food capital, it still lags behind New York, L.A. and even Chicago.
That being said, Babcock is optimistic that Meatless Monday will catch on, though perhaps not in its original form.
"Meatless Monday itself is sort of kitschy," Babcock said, "but if you're into the purpose, the idea is that you can cut down on the amount of meat you eat overall." Going meatless, he said, doesn't have to be the end goal. Sustainable fish, meats and local produce, on the other hand, are achievable results that Meatless Monday encourages.
Each Monday, Nage offers -- in addition to its regular menu -- six to nine vegetarian entrees, some of which are vegan. Among their offerings last night: crispy tofu pad thai with banana chips, Sardinian-style ricotta gnocci, and much to Babcock's excitement, an avocado salad with marinated tomatoes and black finger limes, which he describes as "the caviar of the citrus world."
"It's definitely a fun challenge for chefs," Babcock said of meat-free fare. His goal for D.C.'s chefs?
"To create dishes that people are willing to go out to eat, be excited about, and ultimately pay for."
---
Let's Go Around Town: Keep up with what's happening in the D.C. area anytime, anywhere. Follow us on Twitter and Facebook. Sign up for our e-mail newsletters and find out What You're Doing Tonight with texts delivered right to your mobile phone -- just text DCTONIGHT to 622339 to sign up. (Message and data rates may apply.) Don't forget our iPhone app!