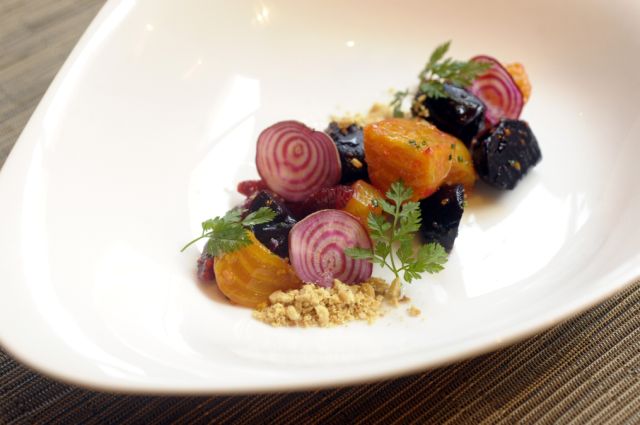 There are enough new restaurants opening in D.C. -- and old restaurants with new chefs -- to make your head spin. But whether all this change can keep up with D.C.'s emerging reputation as a showcase of culinary talent remains to be seen.
Thankfully, the management at Kimpton Hotels & Restaurants has found consistency in their reputation for delightful fares with Urbana's new executive chef, John Critchley.

Having spent copious amounts of time in cities (Boston, San Francisco and Miami) near oceans, Critchley reflets his love of the coast in his commitment to sustainable seafood.
This passion also infuses his eclectic menu, which melds both lighter brasserie-style Mediterranean fare with the traditions of Northern Italy and the French region of Provence.

From the "bar bites" section, the dates ($5) are not to be missed. With a blend of blue cheese and ham, the dates provide a nice sweet-meets-salty kick.

Another noteworthy starter is the shellfish stew ($15). Made with a rainbow assortment of calamari, shrimp, clams, mussels, coconut and citrus broth, this stew was warm and fresh without being too filling.

For the main dish, we tried the local seared bass ($25) as well as the lamb ($29), but none of the pasta dishes recommended. The bass was served over crimson lentils, with a nice ginger-scented orange sauce. The fish nicely complemented the other selections, but we weren't particularly riveted. This was probably less the chef's fault than the comparison between the bass and the divine lamb.

Also seared, the lamb marinates for five or six hours in a rub of dried herbs and flowers. Cooked to a perfect medium rare, and presented with creamy white polenta, rosemary-infused peppers and cipolini onions, the lamb was a lovely, juicy dish. Our favorite item of the evening.

If you still have room for desert, try the pot de crème ($7). The dark chocolate crème, hazelnut anglaise and almond biscotti was an unexpectedly light treat.
---
Check Out the Scene: Keep up with what's happening in the D.C. area anytime, anywhere. Follow us on Twitter and Facebook. Sign up for our e-mail newsletters, download our iPhone app or join our Flickr group.