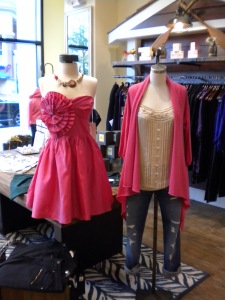 Pink is the New Black this month at Urban Chic. The edgy boutique is contributing to Breast Cancer Awareness Month by donating five percent of Urban Chic T-shirt sales to Susan G. Komen for the Cure.

But, more importantly, there's also a party.
Oh, come on, you know you wanted to hear that.
The third annual Pink is the New Black affair is happening this Thursday from 5 to 8 p.m. at the Georgetown (1626 Wisconsin Ave. N.W.) and Bethesda (7126 Bethesda Lane) locations. Sassanova (1641 Wisconsin Ave. N.W.) -- a shop whose motto seems to be "all hot shoes, all the time" -- is cohosting.
While you're partying, score 15 percent off all on-site merch -- but put down the covetable dresses for a hot sec to enjoy drinks and treats. Five percent of the night's proceeds will also go to the Susan G. Komen foundation.