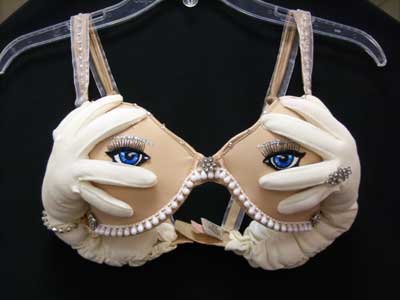 Quick! If you've ever dreamed of decorating a bra and sending it to county officials, today's your last chance!
Wait a sec, did any of that make sense? Fine, here's the deal. Since 2005, Anne Arundel County has held an annual bra art competition in observance of National Breast Cancer Awareness Month (also known as October).
The base bra must be a 36C (discriminatory, dontcha think?), and must be painted, dyed, covered in materials and/or decorated to the extent that none of the original fabric is still showing. Designs should be "created and named in good taste," say the official rules, but we're guessing that good taste is a bit nebulous here.
Example? Last year's first-place winner was titled "Give a Hoot About Your Hooters." Can't argue with that! Then there's the winner of the 2008 People's Choice Award (pictured), "Don't Be Shy, Get Your Mammogram." Funny, mammograms were definitely not the first thing we thought of when we saw this bra.
Online judging will begin Monday, Oct. 5.