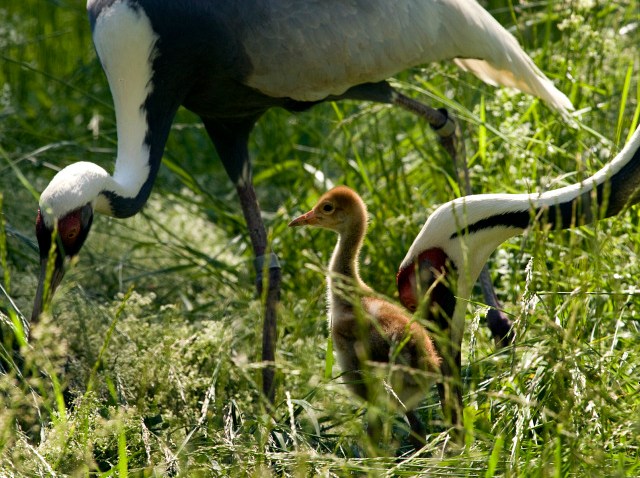 "Two rare crane hatchings at the Smithsonian mark a victory for science and conservation," and also major cuteness, the National Zoo announced today.

The crane chicks hatched at the zoo's Conservation Biology Institute in Front Royal, Va. on May 12 and 14. Their purpose in life: to waddle cutely until they grow up and make more cute babies. (Don't you love how we grossly oversimplify biology?)

Bird staff members at the Institute specialize in producing chicks from cranes with behavioral or physical impediments to natural breeding. "Both hatchings give a much-needed boost to the captive population of the endangered species," said Chris Crowe, bird keeper at institute.

The chicks' mother was artificially inseminated after she laid her first eggs in late March. The eggs that hatched were laid April 10 and 13.

The zoo says its conservation efforts have increased the genetic viability of the white-naped crane captive population, and the sex ratio in the population is no longer skewed.
They've been selectively producing only females for the past few years, and as a result they didn't need to sex this year's eggs, the zoo said. The new chicks' genders are not yet known.
---
Let's go Around Town: Keep up with what's happening in the D.C. area anytime, anywhere. Follow us on Twitter and Facebook. Sign up for our e-mail newsletters and find out What You're Doing Tonight with texts delivered right to your mobile phone -- just text DCTONIGHT to 622339 to sign up. (Message and data rates may apply.) Don't forget our iPhone app!