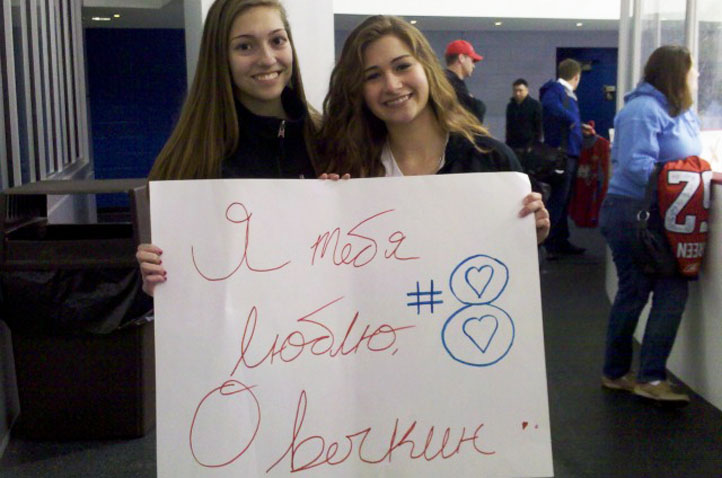 Mia Becker stands 5-foot-4 and carries an unimposing figure. She's also a hockey goalie with a winning record and a save percentage that would make most NHL goalies jealous.

Mia, 16, and a Virginia resident, plays for Shattuck St. Mary's, a prep high school in Minnesota. She is in the company of hockey royalty – Anthony Brodeur, NHL goalie Martin Brodeur's son, is a goalie on the boys team. Becker's goalie partner is Sidney Crosby's sister, Taylor.

We caught up with Mia and her friend, Danielle Colassard, at a recent Capitals practice at Kettler Capitals Iceplex. They stood by the gate near the locker rooms, waiting to be noticed. When asked who they were there to see, they replied in unison.

"John Carlson," they said excitedly.

"He knows it, too," added Danielle, 19, and a student at JMU.

Both girls are fixtures at Caps practices, so much so that they get recognized by players from time to time.

"John Carlson is always so nice to me when I come to Kettler," Danielle said. "He recognizes me from coming so much, and he always asks me how I'm doing and talks to me like we're friends. He has even re-tweeted me on Twitter twice, which I think is pretty cool."

On this particular day, they had a special prop with them – a sign saying "I Love You, Ovechkin" written in Russian.

"My older brother Spencer majors in Russian in college," Mia explained. "Ovechkin saw the sign while he was skating and he laughed and smiled as he skated away. After that I couldn't stop smiling!"

While these super fans enjoy watching games, they have a special place in their heart for Caps practices.

"I get to watch them practice and do drills that I've done before, and then I get to talk to them about hockey," Mia said. "Being able to relate to professional hockey players through our love of the game encourages me to keep working hard so I can be like them."

The girls also recognize that the team's chemistry is truly something special.

"It's fun to see them doing something they love with their teammates," said Danielle . "They all look like they get along really well and they're so friendly."

We think Ted Leonsis would be proud.

Do you know a super-fan who deserves to be highlighted here? Let us know!
Questions, comments or tips? Email Sarah at sarahskogod@gmail.com. You can also follow her on Twitter (@sarahschorno).