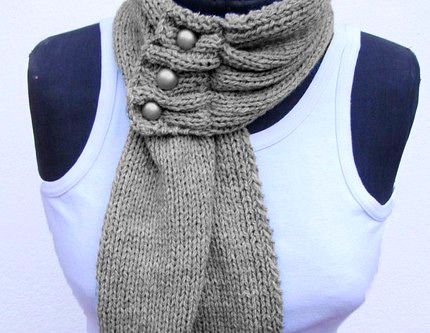 Why would you ever have assumed scarves didn't need to be buttoned up? This swooping scarf ($56), with a single rounded edge, is made to be buttoned around your throat to keep you warm and (duh) stylish. The gray buttons add a pre-Victorian flair -- we keep thinking it needs a navy woolen coat and peacock-feather hat to truly make the look. The scarf comes handmade from Etsy.com seller Homelab, who also takes custom orders should you want one in a different color or style. Ooh, and there's one in black here.



This chrome-plated steel card case ($38) is stamped with fingerprints in a spectrum of grays. Designed by James Wines (architect and designer of public space and landscape projects), the case is available at Proper Topper (1350 Connecticut Ave. N.W. and 3213 P St. N.W.) Ditch the flimsy freebie you got from your alma mater. The second we saw this, we know it was time to upgrade.



Although these gizmos may make you think of merchandise in The Onion store, these Stirrupz (two pairs for $25) are actually real, says K Street Kate. These mini-suspenders wrap around the soles of your feet, clipping on to the edges of your jeans to keep them from riding up inside your boots. The thing to know about Stirrupz: We all want to mock them, but they're actually a good idea. And hey, they were even invented in Arlington. Buy local!