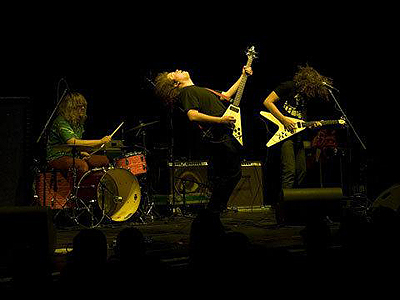 I didn't make it to as many concerts as I usually do, or would have liked to, in 2008, but these 10 were the most memorable for me.
11. Cloak/Dagger and Scanner Freaks and Police & Thieves, Jan. 13, Black Cat Backstage
Top to bottom, this bill at Black Cat's Backstage was the best hardcore show I had a chance to see this year -- granted I worked too late to catch Cloak/Dagger and Police & Thieves open for F***ed Up and Vivian Girls a couple of months ago. Staying in line with the introductory theme of their debut LP, "We Are," Cloak/Daggers opened the set with a furious announcement, "Daggers Daggers," a short hardcore burst of "We are daggers and we don't care! We just did it for the money!" from the "Piñata Breaks" seven-inch. Screaming Dagger Jason Mazzola set the tone, flailing his all-American (read: beer-bellied) body about the stage in a "Loveless" T-shirt -- a word that fits with the band's themes but a sound contrary to this sort of music. From there on out, the band focused on material from "We Are," the best hardcore record of '07, quickly addressing the incessant theme of non-conformity that runs through the LP. Scanner Freaks share Cloak/Dagger's love of '90s San Diego punk and early hardcore, but they don't venture too much to the West, preferring to stay right in D.C. They are the D.C. band that best rivals what the Richmond headliner is doing, but their sound fit better with Dischord post-hardcore. Scanner Freaks guitarist John Riley was the hardest working man in hardcore Sunday, pulling double duty, as he also is a member of like-minded Police & Thieves, who started things off with an intense, short set of hardcore falling somewhere in between San Diego and D.C. -- but not anywhere near the Midwest.
10. Loretta Lynn, Dec. 6, Nightclub 9:30
Maybe she isn't prolific enough to be the Queen of Country anymore, but the coal miner's daughter still has that wonderfully sincere, down-home voice that caught so many ears and grabbed so many hearts decades ago. Maybe she's too old to give a full-out performance, but the performance she does give is unlike anything in music. Thanks to having her son in the band, Loretta Lynn's set had the kind of sweet, amusing banter you'd expect from a show in Branson or at the Grand Ol' Opry. When Loretta was on the microphone, it was a fantasy, just surreal. Often times she took a break to let someone from the band -- or her super-hot granddaughter -- sing a song or two so she could rest. That's when I went to the bathroom or the bar, as it was pretty much just like any country show you might see these days, only reaching slightly further into the past. But when Loretta -- shiny and so adorable -- was singing, or just talking to the crowd, it was a flash to a past I never had a chance to take part in. It was one of those things I had to do, seeing Loretta Lynn live, and it became more than just a checkmark on the list.
9. Daniel Johnston, Feb. 23, Black Cat
Daniel Johnston finally got what he deserved: a big sold out show in D.C. A few years ago, half the people on hand to see the troubled genius probably didn't know his name. Only those hardcore music lovers who'd heard his songs played by more accomplished bands and musicians and sought out the original material would have ventured out to see the brilliant songwriter perform. But thanks to "The Devil and Daniel Johnston," the astonishing 2005 documentary that tells the tale of Johnston's DIY rise in the Austin music scene of the '80s, his brushes with fame and his derailing trials with mental illness, the artist has finally achieved a fame that approaches his value as a major contributor to the pop underground. I had the pleasure of seeing Johnston perform a few years ago in Chicago. He performed alone, hardly interacted with the crowd, played about 10 songs from his folder of songs and abruptly left the stage. His handlers informed the crowd, eager for more and shouting requests, that those were the only songs Daniel was prepared to play. But with supporting musicians and more classic songs promised, Daniel Johnston played the set I've longed to hear from him. Due to reports that Johnston's shaky hands were affecting his playing and his lost teeth were affecting his singing on this tour, I was surprised to see how well he was able to perform. And he was absolutely adorable. He always had an infectious personality -- you can see it on "The Devil and Daniel Johnston" -- and though he's overweight and graying, once he started singing, he was a teddy bear, impossible not to love. Johnston's tapes in the '80s featured his monologue and recorded real life dialogues that offered a glimpse into his mind that wasn't fully explained until the documentary was released, and on stage he offered a similar monologue. "I had a dream that this guy was sentenced to death for attempting to commit suicide," he said. "And in the dream, it was me. I was in the back of the courtroom screaming, 'No!'"
8. Mogwai, Sept. 17, Nightclub 9:30
Never had a chance to see Mogwai live before and it was becoming a criminal oversight. It's not like the Glasgow band fails to tour the States when it releases a record, and I'm a huge fan of post-rock, metal and crescendo rock, which sums up Mogwai's sound and set nicely. I was amazed, but not surprised, by how this band, particularly since it largely eschews vocals, made about a baker's dozen songs and an encore stretch to two hours without seeming to linger beyond 45 minutes. Each song was so intricate and well-developed that the 10-minute epics didn't threaten to lose your attention, despite a glacial pace. The band's pattern of quiet, hypnotic and spacey slow jams building to bone-rattling, near-metal rock of staggering volume -- and then drifting toward quiet again -- did become a bit too predictable midway through the set, though. Most of the set fell into a pattern until a prolonged stretch of very post-rocky, quiet beauty broke the repetition. Then "Like Herod," which provided the most drastic contrast in soft and loud, offered its own heavy change of past. The soft wasn't as pretty as most of Mogwai's soft is, as the band took a haunting approach, but the loud found Mogwai at its loudest and most threatening. Instead of building to the punishing metal, this time the band just pulled it out of nowhere, surprising none of its fans, as fists were thrust into the air right on cue.
7. The Black Lips and Quintron & Miss Pussycat, March 15, Black Cat
Quintron's swamp tech sound is a blend of Jimmy Smith's soulful jazz organ playing, Jon Spencer's irreverent, punk slap on roots music, and Prince's pop sensibility, but it is completely unique. Quintron, a one-man dance party with Miss Pussycat cheering him on with her maracas and vocals, at once embodied the swagger and attitude of the rocker within and the fun-loving goofiness of his tech geek. Before "Place Unknown," Quintron asked that the lights be turned down for his Drum Buddy, a contraption in which what looks like a coffee can with holes punched in it is place over a light bulb. As the can spins and light comes through the holes and hits oscillators, beats result. The oddball dance groove slowly left its mark on many in the room, who couldn't help but wiggle. Miss Pussycat's puppet show after Quintron's set took place in a haunted art gallery owned by a creature who liked to collect paintings by wicked sorcerers and insane people. One art lover was turned into a marble statue, but Santa Claus, a familiar character in Miss Pussycat's puppet shows, saved the day when he cuts the owner down with a machine gun. For their part, the Black Lips sounded better than they did when they opened for The Ponys at the same venue a year before. Then, the songs were too much awash in noise and volume. Though still punky and energetic, the band let the songs come through the sound this time, letting the roots be heard. Despite all the punk volume and noise and the garage sloppiness, the Black Lips, when they're on point, deliver one of the most authentic, retro sounds around.
6. Gray Matter at the Black Cat's 15th Anniversary, Sept. 12
Can't think of a better band to play a Black Cat anniversary party than Gray Matter, and they delivered. The oft-overlooked D.C. punk band deserves to be mentioned in any sentence alongside Minor Threat and Bad Brains, a fact about which I'm now even more convinced. Though short-lived, the band's recorded output for Dischord Records was brilliant, a perfect example of how to sound catchy while still sounding tough. The live show didn't stray far from the recorded output, but that itself made it one of the best punk shows I've ever seen. No, the band offered no real surprises, but they didn't offer any disappointments. They sounded like I imagined they sounded 20 years ago, when I was too young and square to get to a Gray Matter show.
5. Black Mountain and Bon Iver, Feb. 19, Rock & Roll Hotel
Sharing little more than a record label and an appreciation for the distant history of pop and rock music, Black Mountain and Bon Iver shared the stage at Rock & Roll Hotel. The show drew two very different crowds, packing the room, and put on two very different sets. Alone, each band's set would have made for two of the best of the year, but only because they were packed into the same night did this show crack the Top 10. Justin Vernon put a band together for his set of lonesome, wintry and soulful bedroom folk, but the music remained simple and sparse, Vernon's strumming and rustic falsetto remained center stage, and the songs lived up to their recorded beauty. For the first 20 minutes or so of Black Mountain's set, a steady trickle of Bon Iver fans fled, ultimately easing the elbowing but -- given the venue's long, narrow layout -- causing a lot of pushing for the duration of the exodus. Black Mountain sounded like they came from the '70s, particularly because of their adventurous prog rock organ and guitar solos, but the music really was born of the late-'60s, a marriage of the Velvet Underground's pop moments and drone and the riffing of blues rockers and early heavy metal bands like Led Zeppelin, Black Sabbath and Blue Cheer. And it was a healthy, dynamic mix of songs, bouncing from epics and rockers to lighter, carefree territory.
4. Clutch at Nightclub 9:30, Dec. 29
You probably noticed this Top 10 has 11 shows. That's because it was written before I caught this Clutch show. The thing is, I hadn't planned to go. Had my tickets for the Damned -- who always put on a great show but who I didn't expect a Top10er from -- but when they called in sick, I immediately checked the 9:30 site for the Clutch status -- SOLD OUT. Luckily, as I walked home from the train that evening, Solly ran out of Solly's and offered me his extra, and it was the best money I never spent. Originally from Germantown, Clutch is a fixture on the local scene -- the most beloved local metal band around. Furthermore, they are heavy metal chameleons. Each of their many albums is different from the rest, and the set reflected that. In honor of diversity and D.C., when the lights went down, Chuck Brown's go-go classic "We Need Some Money (Bout Money)" played before the band took the stage. Clutch's swampy metal is rooted in classic rock -- Led Zeppelin being an obvious influence -- and the set blended boogie, blues, funk and Southern rock -- even throwing a little go-go beat into the mix late in the set. It started rootsy -- Clutch is the metal band that choogles, perfect for Neil Fallon's angsty, trailer-trash vocals -- and steadily, subtly got heavier and heavier. The band flat rocked, impressive as much for their diversity as their signature sound.
3. Booker T. and the MGs with special guest Eddie Floyd, Sept. 21, Nightclub 9:30
The Stax Records 50th Anniversary Tour really couldn't go wrong. As the house band for Stax, Booker T. and the MGs defined the Memphis soul sound of the '60s, as well as much of southern soul ever since, and they showed why live, but they also showed how much fun playing music should be and displayed an appreciation and respect for each other that seeped into the crowd. After half a set of their songs, they introduced Eddie Floyd to sing some of the best songs of the Stax catalog, many of which were written or co-written by the boys in the band, anyway. Though he showed his age more than the band, Floyd shared their infectious enthusiasm. The $40 ticket probably kept a lot of people away, but it was worth it. It was fun, and decades along, the MGs still managed to impress with their understated, less-is-more genius.
2. Polvo, May 9, Black Cat
Seems like the math rock giants are reuniting in order of importance/influence/legend, at least in my opinion, which is the only one that matters and is always right. We had the Slint reunion a few years back. In December 2006, Chavez regrouped for a couple of shows. This year Explosions in the Sky coaxed Polvo out of retirement, and I felt privileged to be at the band's first warm-up gig. The band apologized for missteps here and there, but those were either unnoticeable or inconsequential, not really interfering with the music, which was about as good as math rock gets, a heavy metal band playing avant garde jazz compositions. Polvo struck a perfect balance of thunderous, plodding metal and pretty ambience. Though Polvo, like many a math rock band, can be repetitive, when the band struck a groove, it was hypnotic. There were times during some of the instrumental numbers, which often stretched into jams, when my mind wandered and I was maybe a little bored, which to me makes my assessment of the show all the more unexpected. Despite losing my attention at times, Polvo made an incredible impression on me. I left so amped, jazzed and excited -- almost giddy -- and that hadn't happened since the Boris or Dinosaur Jr. shows of 2007.
1. Jay Reatard, Oct. 28, Black Cat Backstage
The live show confirmed it, Jay Reatard's got a sound closer to original punk rock than any artist out there. While his host of singles often relies on synthesizers and acoustic guitar -- sounding more like new wave and garage rock -- on stage, it's pure punk. Those other influences aren't lost, though, which helps Reatard avoid sounding the same song after song. There wasn't much variance at the Black Cat Backstage, but each song, within an aggressive, breakneck punk formula, found its own discernible melody and hook -- something the Ramones accomplished three-and-a-half decades ago when they pretty much gave birth to punk rock at CBGBs. There was hardly a lull in pace and never a break in sound. One song done, Reatard would announce the next and the trio would rip right into it. When he abandoned his Flying V for an acoustic, he let the feedback keep the soundtrack properly noisy and unchecked, just as he did when he returned to the Flying V and when he left to go back stage for another Flying V, a classy, white edition, to replace the one that carried him through half the set. Rarely have I heard a band play so tight with so much energy.
Honorable Mention: Blitzen Trapper and Fleet Foxes Backstage, Shearwater Backstage, Swervedriver and F*** Buttons at 9:30, Waco Brothers at Rock and Roll Hotel, Spiritualized and Dirtbombs at 9:30, GWAR at 9:30.
Notes: I failed to see King Khan and the Shrines in D.C. this year, but I'm confident that if I had, they'd be at or near the top of this list -- their set in Chicago over the summer was the best show I saw anywhere this year. Likewise, I refrained from putting Baltimore shows on this list, but the Supersuckers at Ottobar in February ranks right alongside the top three on this list.