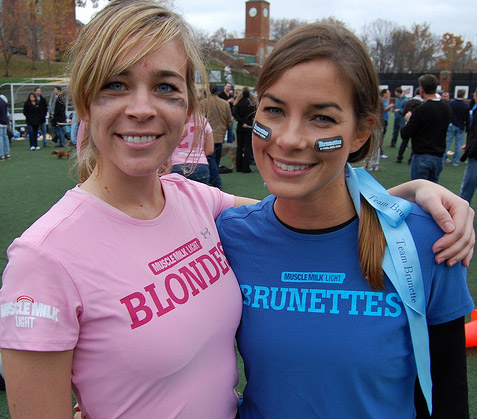 The Redskins could take a knee in comparison to the teams of fierce competitors who took the field at George Washington University's Mount Vernon campus last weekend. With a season still down in the dustheap, there was lots more to cheer there than at FedEx Field these days.
Photo by John Arundel/Local Kicks
The Brunettes sip from the trophy of
victory.

Besides, at least an enterprising group of young professional women (all of the Blonde species) decided that if you're gonna lose at the game of football, you might as well do so raising $100,000 in one single game tackling Alzheimers. Take that Dan Snyder.

For the past five years, the group of philanthropic-minded young ladies have practiced, memorized plays, dislocated things and fundraised for the National Alzheimer's Association. The picture, truly, worth a thousand words.

Last Saturday, two worlds of DC professional women collided: The Blondes Vs. The Brunettes in a winner-take-all game of powderpuff gridiron. Forget the other rivalries which exist in this town -- politics, sports, socialites, you name it -- which play themselves out on the front page of the Post every day.

Last Saturday, there was one haunting mystery of life which needed resolution: Who plays ball better, brilliant brunettes or bombshell blondes? So, volunteer refs were recruited, former Redskin players lined up to coach, and the Red Bull gals were called in to provide liquid refreshments. Like there was not enough pretty scenery on the ballfield to begin with...
Photo by John Arundel/Local Kicks
Team Bru is now 5-0 against the Blondes. If
only the Skins could amass such a record...

And oh yes, yours truly was called in to do the announcing, along with an actual "sports guy," Dan Hellie of NBC4. Dan provided the play-by-play and I supplied John Madden-like insights such as this pure gem: "They're not going to score, Dan, if they don't move the ball forward."

"BvB," as it's known, has collected over a quarter million dollars for Alzheimer's research since its inception five years ago.
"I lost my father over a year ago to this horrible disease," said Sara Abbott, BvB's founder. "When I began this event with friends he was my inspiration and I continue to dedicate my efforts to his memory. It is my hope that we can exceed our 2009 financial goal of $100,000 and that one day we'll live in a world without Alzheimer's Disease."

It's not always about being directly affected. Currently in the United States there are as many as 5.3 million people living with Alzheimer's, a number that is projected to nearly double every 20 years.

"For me, being involved is about looking to the future and addressing a growing concern," said Seda Atam, a five-year veteran of Team Bru. "Young professionals need to be aware and need to work to fight this horrible disease. This is going to affect every one of us in some way."
Photo by John Arundel/Local Kicks
Despite a crushing defeat, Team Blonde was
taking it all in stride.

The game remained scoreless during the entire first quarter, until Brunette Erica Butts made her way to the end zone. Another touchdown without a "field goal" rolled the Brunettes to their fifth straight victory: 13-0.

Blondes vs Brunettes is now going national, with 10 cities across the nation hosting their own tumble of the tresses. The apparent national urge to see chicks carrying footballs down the field in what is, errr, traditionally a man's job, appears to show no letting up.
"I am thrilled. This is what we have worked so hard for," said Ryan Triplette, the 2009 Chair of DC's Blondes Vs. Brunettes. "There is still more amazing growth potential for BvB."

Contact the writer at mcflyradio@gmail.com

TO SEE A SLIDESHOW OF THE BLONDES VS. BRUNETTES SHOWDOWN, CLICK HERE.
Visit LocalKicks.com for more Alexandria, Va. news.
Copyright KICKS - Local Kicks