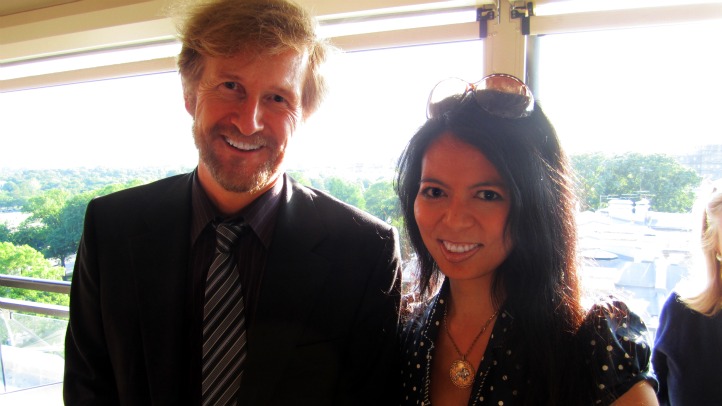 Wednesday evening at the W Hotel, The Week hosted its eighth annual Opinion Awards honoring the nation's best opinion commentary from the left and right. This year's winners included Columnist of the Year Peggy Noonan of the Wall Street Journal; Blogger of the Year John Sides, co-founder of TheMonkeyCage.org, and WaPo'sTom Toles whose week was made by snagging the title of Cartoonist of the Year -- as well as a paparazzi pic with one of his celeb crushes.
"I might need a little time to think on [the most interesting thing that happened to me this week]. A lot has happened," said Toles.
But as long time friend (and bandmate) Christina Sevilla ran up to congratulate him on his winnings, Toles remarked with a smirk, "You know, just today, Christina sent me a picture of the two of us and Rosario Dawson, and they were both in red dresses. That was pretty interesting!"
From posing with Rosario to accepting The Week's Cartoonist of the Year prize, the satirical illustrator has had quite the last few weeks himself; he was also recently honored with a Herblock Award.