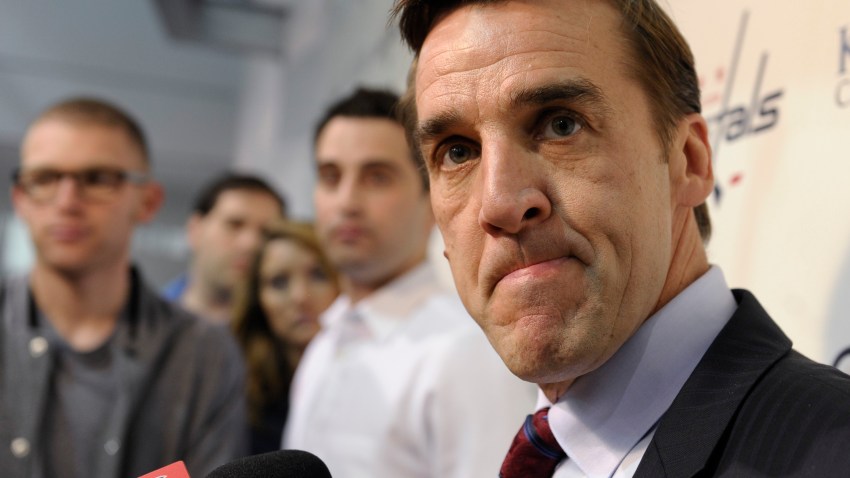 An earlier-than-expected postseason exit by the Capitals and the subsequent rationalization of said exit by players and management has become an unfortunate rite of spring in Washington.
Some years, it's an injury-ravaged lineup or a hot goaltender. Others, it's an unlucky bounce or suspect officiating. Sometimes it's all four.
While the excuses have become interchangeable, there is a sentiment that has endured through every disappointment, one consistently echoed by the Capitals' chief architect.
"I thought it was a really good season," General Manager George McPhee regurgitated last week during the Capitals' breakdown day. "We improved in a lot of ways. A lot of players had excellent years. Our coaching staff was terrific. Players really enjoyed playing for them. We had a slow start, but really played well down the stretch and played well in the playoffs. Didn't go our way.
"I don't think that ever playing in the playoffs gets stale. Winning hockey games never gets stale. We can put the best team we can on the ice and cross your fingers and hope they go deep. I mean, they've made the playoffs six years in a row. How many teams have done that? It's not easy to do that in this league anymore."
McPhee is right. It's not easy to qualify for the postseason six years in a row in the NHL. To answer his question, four others teams have participated in the Stanley Cup Playoffs in each of the last six seasons. Three -- Detroit, Pittsburgh and Boston -- have won Stanley Cups. The fourth -- San Jose -- has appeared in a conference final.
Washington has three first-round losses and three second-round losses to show for its longevity.
Something similar can be said of McPhee personally. Having been in his position since June 9, 1997, McPhee is the third-longest tenured general manager in the NHL and seventh-longest throughout all four major North American professional sports leagues. Four of the six that predate McPhee -- including both NHL general managers, New Jersey's Lou Lamoriello and Carolina's Jim Rutherford -- have won at least one championship.
McPhee has overseen six playoff series victories, half of which came in 1998 during the Capitals' only appearance in a Stanley Cup Final with a roster that he largely inherited from his predecessor, David Poile.
All things considered, general managers have been fired for significantly less, and McPhee is certainly fortunate that he is employed by one of the most patient owners in all of sports. That same patience, however, is wearing thin with a fan base that has grown increasingly frustrated and disillusioned with each passing Stanley Cup-less season.
To be frank, the chances that McPhee loses his job are somewhere between slim and none, so attempting to opine otherwise would prove to be a fruitless endeavor.
But while changes may not be coming in the front office, the same shouldn't be said about Washington's roster. Despite what McPhee may say, his lineup as currently constructed is not conducive to taking the next step -- which for the Capitals would be as simple as advancing past the second round, a hurdle they haven't cleared in 15 years.
Last week, McPhee said that he doesn't expect "a whole lot" of roster movement, and while that may be because he believes the Capitals are "pretty solid in all areas," it's also because of two reasons that go hand-in-hand:
His questionable contract decisions over the years have left them strapped for cash. (See: John Erskine, Jack Hillen, Aaron Volpatti, Michal Neuvirth, Jeff Schultz, Tom Poti, Michael Nylander.)
His risk-averse nature and tendency to overvalue players and outbid himself for their services has not allowed him to make the bold moves necessary to improve the team. (See: Joel Ward, Brooks Laich.)
This summer, the Capitals have around $6.2 million to sign four key free agents: unrestricted free agents Mike Ribeiro and Matt Hendricks and restricted free agents Karl Alzner and Marcus Johansson (McPhee said last week that the use of amnesty buyouts, which would allow the Capitals to eliminate up to two costly players' salary cap hits, has not been discussed).
Alzner and Johansson are both due significant raises, which leaves very little for Ribeiro, who wants a contract of at least four to five years in length, and Hendricks, who also deserves a raise.
Washington is likely to lose either Ribeiro and Hendricks simply because it can't afford to keep both. Therefore, the Capitals will either have to part with the elusive second-line center (and the first-half MVP) it took them two years to find, which will force them to once again fill the void by committee from within, or the versatile fan favorite that will pay the physical price to win. Either way, the Capitals' roster will be weakened.
The only way that McPhee can ensure that his team improves is to stop playing it safe and take a calculated risk.
History shows that he is fully capable of doing that. During the fire sale of 2003-04, McPhee traded away one of the NHL's best players (Jaromir Jagr), the league's leading scorer (Robert Lang, the first time in NHL history that a leading scorer was traded midseason), the team captain (Steve Konowalchuk) and a franchise cornerstone (Peter Bondra). Of course, the Capitals were struggling to stay afloat at the time and there was less to lose, but they transformed from a moribund franchise into a regular-season powerhouse.
It is time for Washington to undergo a similar evolution, this time from a perennial underachiever to an actual Stanley Cup favorite because, simply put, a team that features the likes of Alex Ovechkin, Nicklas Backstrom and Mike Green should have at least challenged for a championship by now.
How McPhee actually goes about doing that remains to be seen. Perhaps targeting the team's core is the only way. It is evident that simply swapping out the ancillary parts surrounding the Capitals' nucleus is not a successful formula.
Regardless, the Capitals need to make a move that will shake their foundation to its very core, and it is up to the man who put that core together to take a chance.
McPhee routinely says that he likes his team. He'll like his team a lot more if it can win when it counts.
---
Follow Adam on Twitter @AdamVingan and e-mail your story ideas to adamvingan (at) gmail.com.