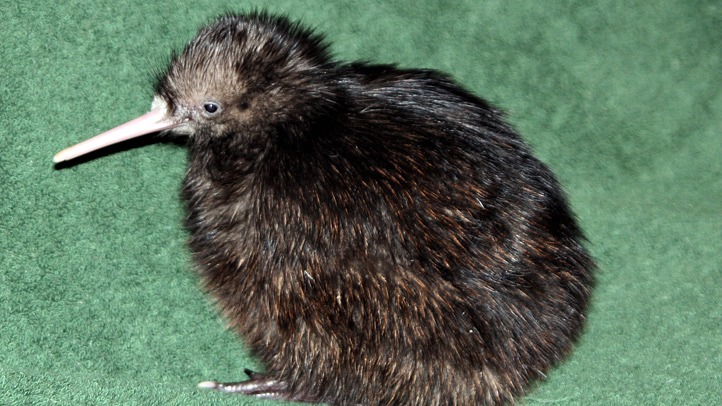 Kids these days just seem to be growing up faster and faster these days.
Case in point: A three-month-old is already a big sister.
"Double the kiwi, double the cuteness," the National Zoo trills on its Flickr page. The zoo's first kiwi chick of 2012 hatched in early on Wednesday, and no, it's not a panda (well, pandas don't hatch from eggs), but we'll take whatever we can get at this point. Even the lion cubs are pretty much functioning at adult levels at this point.

"At 4:15 a.m. [Wednesday] morning, the cam still showed a pipping egg," the Zoo's web site said. "By the time keepers arrived just before 6 a.m. they found a peeping kiwi chick just picking off the last pieces of egg shell."

The egg was laid around Dec. 28, and stay-at-home dad Maori incubated the egg.

Geneticists will be able to determine the baby's sex in the next week. The chick's big sister Omana hatched on Dec. 11.

Incidentally, although this little one's job is basically to eat its broccoli to grow up big and strong, you can meet some if its compatriots. The nation's only "Meet a Kiwi" program is offered in the Bird House on Mondays, Wednesdays and Fridays at 11 a.m.
---
Check Out the Scene: Keep up with what's happening in the D.C. area anytime, anywhere. Follow us on Twitter and Facebook. Sign up for our e-mail newsletters.