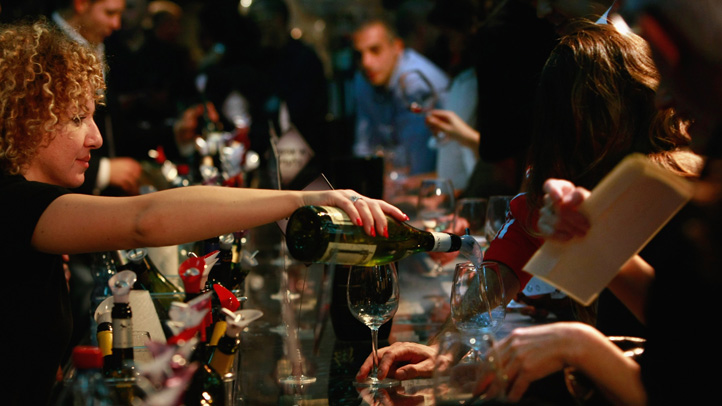 What are you doing this week? We offer up our favorite picks for the five days ahead:
---
ALL WEEK:
Bethesda Row Restaurant Week -- which runs Monday, April 16 through Sunday, April 22 this year -- lets you nom a three-course lunch for $15 or a three-course dinner for $30. Participating spots include Jaleo, Lebanese Taverna and Jaleo. More info here.
FilmFest DC continues with multiple independent movies showing across the city each night, focusing on international flicks, social justice and and the Caribbean. Venues include Landmark E Street Cinema, Regal Cinemas Gallery Place and the Avalon Theatre. See the complete schedule here; $11 each.
Spa Week offers $50 treatments at various local salons and spas from Monday, April 16 through Sunday, April 22. Participating spots include Red Door Spa, Vitalia Medspa and LifeSpa. You can also enter for a chance to win a $1000 gift card. More info here.
---
MONDAY, APRIL 16:
The Roots perform at the new Howard Theatre (620 T St. NW) on the strength of their stunning concept album "undun," which details the life of a fictional character who is dead or dying at the first song. The album follows his choices in reverse chronological order to examine the battle between destiny and free will. 6 p.m. doors; 8 p.m. show; $55.
The Global Beer Network is taking over ChurchKey (1337 14th St. NW) for the Belgian Beer Fest, stocking all 50 taps with Belgian imported beer including Scotch de Silly, Gulden Draak and Cherish Raspberry (sounds good to us). Full and four-ounce pours will be available, and with each purchase, you'll be entered into a raffle for a large-format bottle from Van Steenberge. 6 p.m.; no cover.
FilmFest DC continues with 11 independent movies showing across the city. See the complete schedule here. Film start times range from 6:15 to 9 p.m.; $11 each.
---
TUESDAY, APRIL 17:

Head over to Beacon Bar & Grill (1615 Rhode Island Ave. NW) to see D.C.'s best bartenders go head-to-head in the fifth annual Best Martini Contest. As bartenders compete for prizes in front of a panel of judges, you can sip on sample martinis, nibble appetizers and vote for your favorite participant. 5:30-8 p.m.; $20 in advance; $25 at the door.
For the third year in a row, FilmFest DC is hosting the Justice Matters series, featuring seven films that focus on human and civil rights and the need for social change. This year's films include "Pink Ribbons, Inc.," "5 Broken Cameras" and "Blood in the Mobile." Venues include Landmark E Street Cinema. $11.; see theaters and showtimes here.
Cafe Saint-Ex (1847 14th St. NW) hosts a four-course New Belgian Beer dinner with beer pairings such as Fat Tire, 1554, Belgo and Coca Mole. 7 p.m.; $45 not including tax and gratuity. Email Jessica@novelfoodsdc.com for reservations.
---
WEDNESDAY, APRIL 18:

Happy Hour Trivia is back! Head to D.C. Improv (1140 Connecticut Ave. NW) for a night of drinks and laughter hosted by comedian Chris White. Attend with your friends (groups of up to eight people are allowed to sign up together) and compete for prizes including up to $15 off your tab for the night. Trivia begins 7 p.m.; arrival by 6:45 p.m. recommended. Free; sign up online to attend.
Drum-happy rock band Guster, along with comedian Jeff Garlin from "Curb Your Enthusiasm," will hit up Lincoln Theatre (1215 U St.) for a night featuring of music and laughs. 8 p.m.; $33.
Red Palace (1212 H St. NE) hosts D.C. Variety Open Mic, featuring "Sideshow Girl" Mab Just Mab and Cheeky Monkey Sideshow's Original Sideshow Geek, Swami YoMahmi. See local talent including music, sideshows, juggling, dance and "interpretive yak milking"! (Leave early if that last one scares you. Performers must sign up in advance here. Doors 8:30 p.m.; show 9 p.m.; $8.
---
THURSDAY, APRIL 19:

SnobSwap launches with a Swap & Sip Launch Party at TARI (1525 Wisconsin Ave. NW). SnobSwap is an online marketplace for exchanging and purchasing used designer fashions. At the launch you can exchange designer goods in person (optional swap drop-off between 5-6 p.m.), as you enjoy complementary hors d'oeuvres and drinks, plus a surprise designer giveaway. 6:30-8:30 p.m.; free.
Ever had one of your paintings in a museum? Now's your chance -- because you can create the painting in the museum. Art Jamz holds the first in a series of monthly pop-up events at the American Art Museum, which includes live jazz in the Kogod Courtyard. Your ticket price includes a 20x24 canvas you get to keep, plus the use of an easel, acylic paints and brushes. You'll also get 20 percent off drinks at food at the cafe. 5-8 p.m.; $40.
More than 120 craft artists will showcase their work during the Smithsonian Craft Show at the National Building Museum (401 F St. NW). There will be a online auction, a craft show raffle and special events including a viewing of the White House Collection of American Crafts. All proceeds will support the Smithsonian. 10:30 a.m.-8:30 p.m.; $15 admission. Through April 22; see full schedule here.
Stress levels rising this time of year? Ditch the tourists and head east of the river. Gerry Gorman will discuss Reducing Stress Through Meditation at the Anacostia Neighborhood Library (1800 Good Hope Road SE). 6:30-8 p.m.; free.
---
FRIDAY, APRIL 20:
Friday Night Frights at the Black Cat (1811 14th St. NW) features two episodes of "Tales From the Crypt" and drink specials every Friday night. 7 p.m. Backstage; no cover.
The Bethesda Literary Festival offers at the Hyatt Regency Bethesda (7400 Wisconsin Ave., Bethesda, Md.). First, adult and high school winners from the festival's Essay & Short Story Contest will read their work. 7 p.m.; free. Then Pulitzer Prize-winning Washington Post reporter Joby Warrick will discuss his book, "The Triple Agent: The Al-Qaeda Mole who Infiltrated the CIA." 7:30 p.m.; free.
The Bethesda Literary Festival also holds events at the Writer's Center (4508 Walsh St., Bethesda, Md.), Glen Finland will read from her book, "Next Stop," about her autistic son David's journey as he navigates the real world alone for the first time. Sandra Beasley will then read from her own personal memoir, "Don't Kill the Birthday Girl: Tales from an Allergic Life," about her struggle from childhood with food allergies. 7:30 p.m.; free.
---
ALSO SEE:

---
Check Out the Scene: Keep up with what's happening in the D.C. area anytime, anywhere. Follow us on Twitter and Facebook. Sign up for our e-mail newsletters.