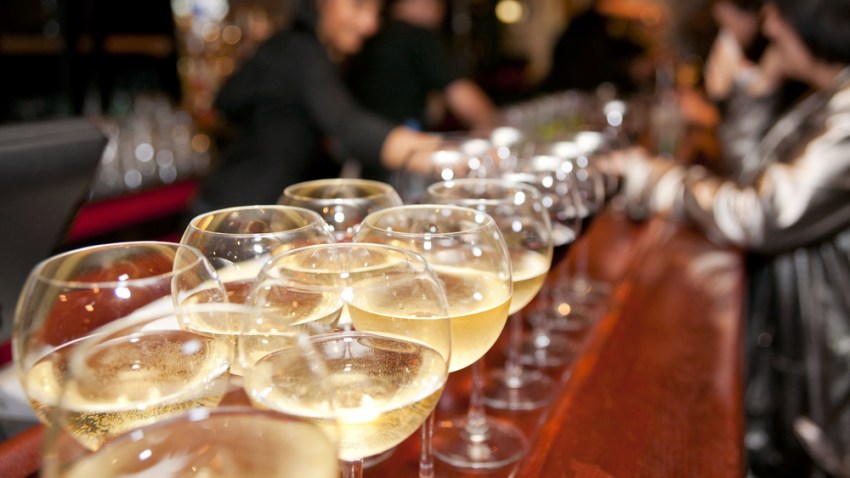 What are you doing this week? We offer up our favorite picks for the five days ahead:
---
MONDAY, OCT. 15:
The Howard Theatre (620 T St. NW) pays tribute to late godfather of go-go Chuck Brown during its Wind Me Up, Chuck! concerts series. On select Mondays until Dec. 17, the Chuck Brown Band will collaborate with a musician who has been inspired by Brown. This week, R&B singer Raheem Devaughn joins in. 8 p.m.; $35-45.
Electropop group Passion Pit is performing at the 9:30 Club (815 V St. NW) with Youngblood Hawke. Expect the band to play songs from their recent album, "Gossamer," and a give a little preview of some of their new music. Tickets for the show are sold out but stalk Stubhub for sellers. 7 p.m.; $55-$69.
Shacktoberfest has begun at Shake Shack (1216 18th St. NW). Get a refillable bier stein for $10 (refills for $7), and enjoy seasonable noms like the cheddar brat burger, currywurst and Garman chocolate pecan "concrete" (dense frozen custard). Closes 11 p.m.
---
TUESDAY, OCT. 16:

All four locations of Busboys & Poets (14th & V, 5th & K, Shirlington, Hyattsville) host presidential debate watch parties. The townhall-style debate will feature questions from citizens, with CNN's Candy Crowley moderating. 9-11 p.m.; no cover.
Local style blogger María José Ovalle of Very Busy Mamá will host Red, Burgundy and Plum heads as part of D.C. Wine Week, reports D.C. Celine. Shop dark fall fashion colors and enjoy passed hors d'oeuvres, as well as (this part is obvious) wine. It's happening at Lost Society (2001 14th St. NW). 8 p.m.; $40 includes open bar from 6 to 7 p.m.
It's not too cold yet for Pilates in the Park in Farragut Square (Connecticut and K streets NW). This week's offering is pilates, barre yoga and (really) "yogalates," reports Free in D.C.. Bring your own mat. 5:30-6:30 p.m.; free.
---
WEDNESDAY, OCT. 17:

The Hold Steady is headed to U Street Musical Hall (1115 U St. NW) with Natural Child. The Brooklyn-based band from their five highly acclaimed studio albums. 7 p.m.; $25.
Story League hosts a scary story-telling contest at Busboys & Poets (14th & V streets NW). Storytellers have up to seven minutes to tell their story, true or fictitious, ghoulish or realistic. A team of three judges will name the winner of a $100 cash prize. Go to watch, or compete. 8:45 p.m. doors; $10.
Learn more about the worst country's manmade ecological disaster during a discussion and highlight screening of Ken Burns' "The Dust Bowl" at GW's Lisner Auditorium (730 21st St. NW). Burns, Dust Bowl survivor Cal Crabill, National Geographic's Peter Miller and Jim Axelrod of CBS News will lead the discussion and will include parallels to modern weather events. 7 p.m.; free tickets required (call Lisner's box office at 202-994-6851).
---
THURSDAY, OCT. 18:

Beats, Bass and Brau takes over U Street Music Hall (1115 U St. NW), free DC Brau Citizen ale and free shots of Grand Marnier from 10 to 11 p.m. to celebate the debut of a new specialty drink called "The Grand Citizen" (which, yes, combines the two). You'll also find live music and DJs, since this is U Street Music Hall we're talking about. 10 p.m.-3 a.m.; $10.
If you love vintage clothing, then Quarter Life's Modern Vintage Shop & Social at Nana (3068 Mount Pleasant St. NW) is for you. Enjoy your afternoon browsing through an array of eclectic skirts, dresses, and jewelry. 5 -7 p.m.; free admission.
The VelocityDC Dance Festival returns for its fourth year to showcase D.C.'s hottest dancers at Sidney Harman Hall (450 7th St. NW) through Oct. 21. Check VelocityDC's website for all scheduled performers, which include Step Afrika!, the Washington Ballet Studio Company, and El Teatro de Danza Contemporanea de El Salvador. $18; 8 p.m.
---
FRIDAY, OCT. 19:
Jackie, Jermaine, Marlon and Tito Jackson are performing at the Howard Theatre (620 T St. NW) for their first tour together since their 1984. During their performance at the historic theater, The Jacksons will honor their brother while playing their timeless chart toppers and a few of Michael's solo hits. 8 p.m.; $125-$139.
Ghost tours of the District are happening every Friday and Saturday through October. Meet at the White House exit of the McPherson Square Metro station and hear local lore of the city's most haunted area, Lafayette Park. 8 p.m.; $12 adults; $6 for kids under 16; tickets here.
The Crime Museum (575 7th St. NW) revives its annual Dead Man Walking night, featuring "history's scariest criminals," including ghosts from the Tennessee electric chair the museum just so happens to have. 7-10:30 p.m.; Oct. 19-20, 25-28 and 31; $30; age 17 & up.
---
ALSO SEE:

---
Check Out the Scene: Keep up with what's happening in the D.C. area anytime, anywhere. Follow us on Twitter and Facebook. Sign up for our e-mail newsletters.