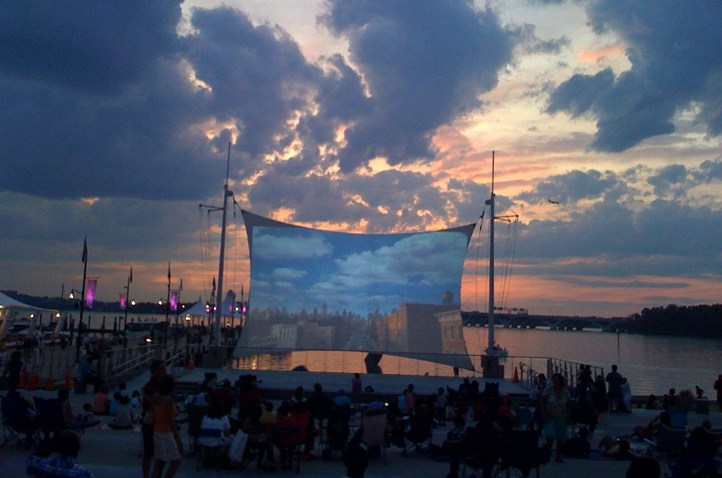 What are you doing this week? We offer up our favorite picks for the five days ahead:
---
MONDAY, JULY 23:
The Loudoun County Fair (17558 Dry Mill Road, Leesburg, Va.) kicks off, running through Saturday, July 28 with carnival rides, a demolition derby, a rodeo and more fried Oreos than you can shake a stick at. July 23-28.
Enjoy an evening under the stars at Crystal Screen: Rom Coms in the Bell Street Courtyard (1851 S. Bell St., Arlington). which turns into a free outdoor movie theater every Monday through Aug. 27. This week, catch the Sandra Bullock vehicle "The Proposal." Dusk; free.
The Red Hot Party at the Black Cat (1811 14th St. NW) celebrates the efforts of the International AIDS Conference, which is being hosted in the District for the first time. Catch VIP speakers, Mister Saturday Night and a performance by Jamar Rogers of "The Voice." 7:30-10:30 p.m.; no cover; RSVP here.
---
TUESDAY, JULY 24:
Rufus Wainwright of folk royalty and indie darling Ingrid Michaelson, in one place at the same time? Hey, it's happening. Grab a lawn seat and have yourself a BYOB picnic, or shell out for more for a prime view at Wolf Trap (8601 Wolftrap Road, Vienna). 8 p.m.; $30-$75.
Whereas most local outdoor movie series are ongoing throughout the summer, Bethesda likes to cram all the fun into a single week. The Bethesda Outdoor Movie Series begins Tuesday, running through Saturday, July 28. You'll find it at the corner of Norfolk & Auburn Avenues, along with "a limited number" of chairs. You can also bring blankets, of course. The first night's flick is "Stand By Me." Dusk; free.
Brewmaster Mark Carpenter of Anchor Brewing Company takes over the taps at ChurchKey (1337 14th St. NW), sharing stories from his 40 years working with craft beer, and sharing some of his own concoctions. You can sip Anchor beers in either four-ounce tasters or full glasses. 6-7 p.m.; no cover.
---
WEDNESDAY, JULY 25:

Screen on the Green continues, although it's sneakily jumping to Wednesday this week from its usual Monday. Catch a classic movie under the stars, with the Capitol as a stunning backdrop. Bring your blankets to the National Mall between 7th and 12th streets NW, and get ready to perform the HBO Dance. The second week's film is "It Happened One Night" (1934), starring Clark Gable. Sunset; free.
Go for a laugh, to stir up old memories or because, inexplicably, you're still into this stuff. Whatever your reason, Wolf Trap (8601 Wolftrap Road, Vienna) is bringing back the '90s with the one-night Summerland festival, featuring Everclear, Lit, Gin Blossoms, Sugar Ray and Marcy Playground. 7 p.m.; $42.
A summer wine dinner at Boundary Road (414 H St. NE) features organic and biodynamic wines (ooh, fancy!) and a five-course seasonal tasting menu. Chef Brad Walker and wine importer Charles Cendrot will be at the communal table to discuss their crafts. 7 p.m.; $135; call 202-450-3265 for tickets.
---
THURSDAY, JULY 26:

'Skins fans have been waiting all summer for this! Redskins Training Camp begins at Redskins Park (21300 Redskin Park Drive, Ashburn, Va.) -- free and open to the public. Gates 1 p.m.; practice 2:55-6 p.m.; free; through Aug. 14. See full schedule here.
---
FRIDAY, JULY 27:
South on South Capitol at the Navy Yard Fairgrounds (1299 Half St. SE) local and regional county and Southern rock bands, with alt country rock band The Highballers headlining. You'll also find mechanical bulls, games, drinks at the Bullpen, and plenty o' food trucks. 11 a.m.-midnight; free admission.
Sign of the Whale (1825 M St. NW) throws an Olympic Kick-off Party, featuring $5 Tito's Vodka cocktails and $5 Bud and Bud Lights. Wear red, white and blue to score a free drink. 8 p.m.-midnight.
Wrap up your weekend with a movie under the stars. Movies on the Potomac at National Harbor (pictured above) shows the 2006 family comedy "RV," starring Robin Williams, Josh Hutcherson, Jeff Daniels and Kristin Chenowith. Sunset; free.
Catch rock legends Rod Stewart and Stevie Nicks are on tour together once more, bringing their Heart and Soul 2012 Tour to the Verizon Center (601 F St. NW). $67-$167.
---
ALSO SEE:

---
Check Out the Scene: Keep up with what's happening in the D.C. area anytime, anywhere. Follow us on Twitter and Facebook. Sign up for our e-mail newsletters.