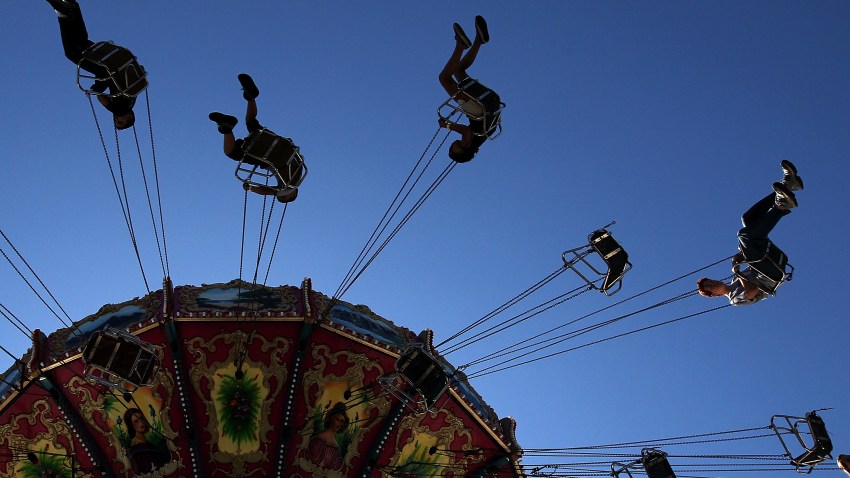 What are you doing this week? We offer up our favorite picks for the five days ahead:
---
MONDAY, AUG. 6:
It's your last chance to attend Screen on the Green this summer! Catch the Alfred Hitchcock classic "Psycho" (and maybe invest in some dry shampoo to use for the near future). Bring your blankets to the National Mall between 7th and 12th streets NW, and be ready to perform the HBO Dance. Sunset; free.
Julia Child Restaurant Week, Aug. 7-15, celebrates what would have been the legendary chef's 100th birthday. Café Dupont (1500 New Hamphire Ave. NW) is dishing up a three-course prix-fixe menu featuring dishes chosen from among Child's favorites. Offerings include orange-glazed roasted duck breast. And wine pairings, obviously. Call 202-483-6000 for reservations (required); $50 per person, not including tax and tip.
Brace yourselves: World of Beer (901 N. Glebe Road, Arlington) is throwing an opening party, and they have 500 "different, ever-changing" kinds of bottled beer and 50 rotating taps, plus brauts, hot dogs, sausages and hot stuffed pretzels. You can also catch plenty of Olympics action on their 20 50-inch TVs. 4 p.m.-1 a.m.; no cover.

---
TUESDAY, AUG. 7:

The Howard Theatre (620 T St. NW) hosts the United Sounds of Africa music project as they stop in the nation's capital during their U.S. tour. Composed of six artists, USA says its goal is to unite the diverse cultures of the United States and Africa through music. 8 p.m.; $56.
The Chicago-based ensemble Third Coast Percussion offers a free concert at the Millennium Stage of the Kennedy Center (2700 F St. NW), using a variety of instruments to construct intense but playful sounds. 6 p.m.; free.
---
WEDNESDAY, AUG. 8:

The Arlington County Fair (Thomas Jefferson Community Center, 3501 S. 2nd St., Arlington) runs Aug. 8-12, featuring (of course) carnival rides, a petting zoo, agricultural exhibits, and jewelry and craft vendors. This is the only area county fair that's Metro-accessible, with a $2 shuttle service from Ballston). Outdoor movie nights are Friday and Saturday. Wed.-Thu. 5-10 p.m. outdoors; no indoor hours. Fri. 4-10 p.m. indoors; 2-11 p.m. outdoors. Sat. 10 a.m.-9 p.m. indoors; 10 a.m.-11 p.m. outdoors. Sun. 11 a.m.-7 p.m. indoors; 11 a.m.-10 p.m. outdoors. Free admission; rides/food extra.
NoMa Summer Screen (L Street NE between 2nd and 3rd) shows the 1998 disaster fave "Deep Impact" in accordance with its tongue-in-cheek theme for 2012, "The End of the World?". 7 p.m. food and music; 9 p.m. movie; free admission.
Local 16 (1602 U St. NW) is hosting an artist showcase each month this summer to feature the works of a local artist. This month's pick is Ariel Messeca. Happy hour specials include six draft beers, rail cocktails, house wines and appetizers at the bar for $5 each. 6-8 p.m.; no cover.
---
THURSDAY, AUG. 9:

If recognition of human rights is a passion of yours (and if not, you might want to get a new perspective), head out to a book signing for "Some of My Best Friends Are Black: The Strange Story of Integration in America" by Tanner Colby at Politics and Prose (5015 Connecticut Ave. NW). The book explores the continually troubled race rations in America, 49 after Martin Luther King Jr.'s unforgettable speech. 7 p.m.; free admission; book 20 percent off $27.95 throughout August.
May the Schwartz be with you! "Spaceballs" is celebrating its 25th birthday by heading back the the big screen. Catch it at the AFI Silver Theatre (8633 Colesville Road, Silver Spring), where all moviegoers will receive light-up candy lightsabers and have chances at raffle prizes. 9 p.m.; $11.50.
---
FRIDAY, AUG. 10:
Who doesn't love D.C.'s famous food trucks? The Truckeroo festival (Half St. and M St. S.E.) is back for another month, bringing together a plethora of trucks from the D.C. area and plenty of live music. 11 a.m. to 11 p.m.; free admission.
The Montgomery County Agricultural Fair (16 Chestnut St., Gaithersburg, Md.) kicks off Friday, running through Aug. 18. You'll find 40+ rides, carnival food, 4-H animal and craft exhibits, demolition deby and more. Fri. 3 p.m.-midnight. General admission $10; free for kids under 12; $5 parking (free parking at Lake Forest Mall with shuttle service); $25 carnival one-day wristband. Tractor pull, monster truck show and demolition derby tickets extra. Buy tickets online here.
---
ALSO SEE:

---
Check Out the Scene: Keep up with what's happening in the D.C. area anytime, anywhere. Follow us on Twitter and Facebook. Sign up for our e-mail newsletters.