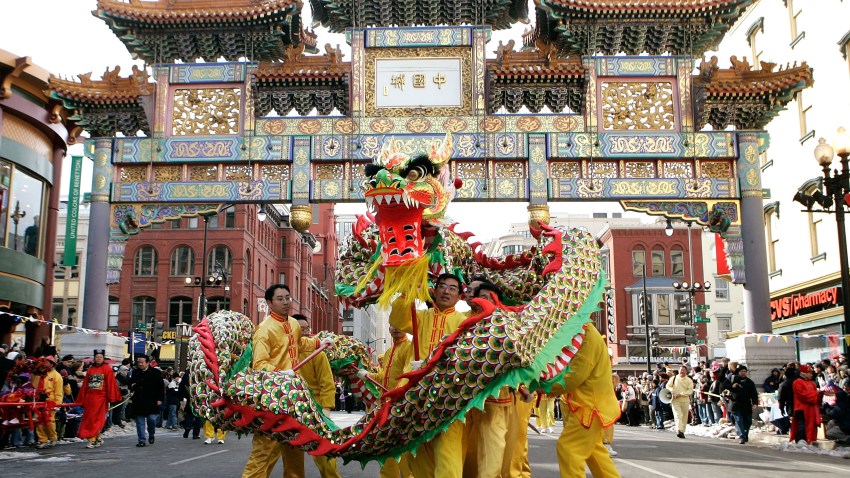 What are you doing this weekend? We offer you a starting point:
---
STARTING FRIDAY, JAN 27:
The Washington Auto Show pulls into the Convention Center (801 Mount Vernon Place NW) with special appearances and performances (J.R. Martinez, Captain Planet, lion and dragon dancers), featured vehicles, vendors, contests and giveaways, through Feb. 5. Fri. noon-10 p.m.; see more hours here. Adults $12; kids $5.
Is it wrong for us to be this excited about a Monster Truck Jam? Well, we're sorry, but we are. The Grave Digger -- the monster truck world's most famous creature -- will celebrate his (her? its?) 30th anniverary at the Verizon Center (601 F St. NW) through Sunday. Fri. 7:30 p.m.; see more hours here. $20-$60; $2 more the day of event.
Mirror to the World: Documentary Photography opens at Glen Echo Park (7300 MacAthrur Blvd., Glen Echo, Md.), running through Feb. 27. Images come from the District, as well as Indonesia, Italy, the Pacific Northwest and more. "Visual essays" include the story of a homeless woman's struggle for survival in Washington, within sight of government offices. Opening reception Fri. 6-9 p.m.; free to the public. Sat. 1-4 p.m.; Sun. 1-8 p.m.
---
SATURDAY, JAN. 28:
Break free of the winter blahs with a spring break-themed party, Suits & Boots (which, granted, doesn't sound very spring break-like), hosted by DC101. Specials include tropical drinks, and beachwear is required attire. The party is located at TopGolf Alexandria (6625 S. Van Dorn St., Alexandria) and for every game of golf purchased, $1 will be donated to Dreams for Kids. 5-8 p.m.; advance sold out; $15 at the door.

Eden Lounge (1716 I St. NW) launches its new monthly '90s-themed nights. The debut features guest host Dennis Haskins -- otherwise known as Mr. Belding from "Saved by the Bell." Eden's Green Room will transform into "a boombastic, side pony-tailed, head banging, teeny bopping monthly dance party." DJs will be spinning '90s hits, and period-appropriate attire (scrunchies! Docs!) is encouraged. RSVP online for free admission before midnight.
Unravel a murder mystery at the National Gallery of Art (4th St. NW) with Watson Adventures. "Detectives" (OK, ordinary government workers and you) will gather clues and crack a secret code by answering questions about the art around them. 2 p.m.; $23.50 (advance purchase required). Adults only.

---
SUNDAY, JAN. 29:
Celebrate the lunar new year during the Chinese New Year Parade, starting from 6th and I streets NW (see map of route here). More than 40,000 people are expected to watch the dragon dancers, lantern girls, high school bands and kung fu demos -- ending with a giant firecracker at 3:45 p.m. Festival noon-5 p.m. at Chinatown Community Cultural Center (616 H St. NW); parade 2-5 p.m.; donations accepted.
The Tsingtao Year of the Dragon Chinatown Challenge is a scavenger hunt that, of course, includes drink specials -- in this case, $3 Tsingtao drinks at participating locations. T-shirts will be given to the first 50 contestants. The last day to register for this event is Friday, Jan. 27. 1 p.m.; $10 (must be 21 or older).

Best. Idea. Ever. Enjoy a variety of sweet treats during the McLean Chocolate Festival, held at the McLean Community Center (1234 Ingleside Ave., McLean, Va.) -- from candy and cake to cookies and ice cream. Even better, 25 percent of the proceeds will go to local organizations. Noon-5 p.m.; $1. Free admission for kids under six.
---
ALSO SEE:

---
Check Out the Scene: Keep up with what's happening in the D.C. area anytime, anywhere. Follow us on Twitter and Facebook. Sign up for our e-mail newsletters.