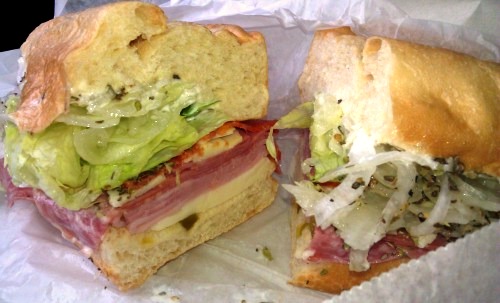 The good folks at GOOD asked CityPaper's Young & Hungry to nominate one sandwich that best represents D.C. for the magazine's forthcoming map of the best creations on bread, state by state.
Y&H put the question to readers. You guys overwhelmingly endorsed the "G-man" (above) at Mangialardo and Sons on Capitol Hill. A solid nomination.

This souped-up Italian sub, piled with ham, salami, mortadella, pepperoni, provolone, fontina and hot peppers, meets all the criteria: demonstrating historical or cultural significance, composed of local ingredients, and supportive of local independent businesses.
How's this for historically and culturally significant? The sub is sort of emblematic of how federal Washington dictates the way local D.C. does business. The legend of the sandwich, according to the Washington Post, goes something like this:
Two FBI agents en route to a Redskins game in the 1970s stop into the mom-and-pop shop on Pennsylvania Avenue S.E. and demand that owner Antonio Mangialardo whip up something special. This heap of meaty deliciousness is what they get. Word later spreads throughout the Justice Department about the tantalizing creation, and soon the tiny deli is crawling with feds requesting that G-man sub.

The bread is locally made: hard rolls baked in the District by Catania Bakery (1404 N. Capitol St. N.W.); soft rolls come from H&S Bakery in neighboring Baltimore. And the still-popular subs keep the family-owned deli rolling along into its 58th year in business.
Expect the nationwide results later today. The link is here.
Photos by Chris Shott
The 'G-Man' at Mangialardo and Sons: D.C.'s Quintessential Sandwich was originally published by Washington City Paper on Sept. 26, 2011.
Copyright CITYP - Washington City Paper