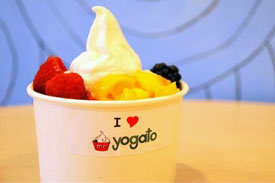 Pinkberry, the Sunset Strip prostitute of the gastronomic world, first infected California's southland with fro-yo fever in 2006, with the opening of its West Hollywood store.
Soon thereafter, an outbreak of Pinkberry stores, as well as a new strain of rip-off chains, shot up all over the nation. And like a gross and annoying case of the herps, Pinkberry looks as if it's here to stay ... thanks to the likes of Paris and Lindsay.
But you won't find any of the bland celebrities that popularized the LA chain at Mr. Yogato, the DC-based frozen yogurt parlor that literally spices up fro-yo. With offerings like chili powder toppings and mojito-flavored yogurt, Mr. Yogato is definitely not for the dull or timid. Mr. Yogato himself, owner Steve Davis, is to thank for that.
"Steve is goofy, to put it mildly, and has an energy that permeates the whole store," says business partner Grant Fairbairn, who met Steve when he joined his Los Angeles WAKA kickball team.
The duo opened Mr. Yogato in June 2008 after Steve moved to D.C. to pursue his sixth degree -- a PhD in economics -- and continued his work as a rocket scientist at a space-transportation start-up company.
Student and scientist by day, yogurt man by night , Steve is at the store about five nights per week. He can be seen working the counter or leading his patrons in a game of "Seinfeld Trivia," in which yogurt and Seinfeld lovers compete for the ever-coveted "Bosco Award," named after George Costanza's favorite syrup and ATM pin.
Their yogurt runs from $3 to $5, with additional charges for toppings. But don't worry, Mr. Yogato offers many opportunities for discounts, which are detailed in "The Rules of Yogato."
For instance, you can get a 20 percent discount if you can recite the Stirling Battlefield speech from Braveheart in a perfect Scottish accent or 10 percent off for wearing a Mr. Yogato stamp on your head.
Although their 17th Street branch has been successful, Fairbairn says that they are not looking to franchise. However, they are willing to turn stores over to friends who will preserve the Yogato spirit.
Jessica Jenson, a friend of the 17th Street owners (and also a rocket scientist) will be opening a store in Baltimore's Fells Point this week. It will feature the same recipes as well as extras like video games and a Foosball table.
Drop by for its grand opening this Saturday. And don't worry, they'll also have a forehead stamp for you.
Mr. Yogato
1515 17th St. NW
Washington, DC 20036
202-629-3531

723A S. Broadway
Baltimore, MD, 21231