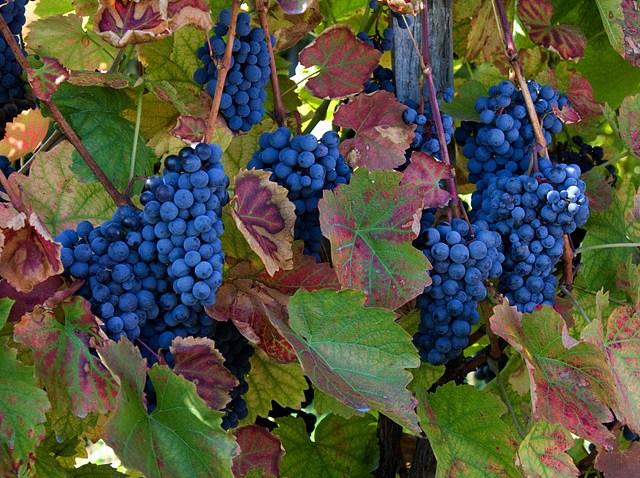 Rik and Melissa Obiso are living proof that wine is taking root in Montgomery County, Va.
Out their back door, the buds have set on the grape vines for Eclipse Winery, which is not yet in production but on its way.
The Montgomery County couple is one of several with ambitions to make wine.
Right now, winery maps list no wineries in Montgomery County, even though Virginia has a burgeoning wine industry.
In 2008, the state produced 370,340 cases of wine with an estimated retail value of $74 million. There are an estimated 150 wineries in operation and more getting off the ground all the time, according to the Virginia Wine Board Marketing Office.
There are six wineries in Southwest Virginia. In the next few years, that bunch will grow.
David and Allison Dunkenberger are building a tank room and grape pressing area in Ironto, where they have planted 2,500 vines. The couple -- he has a background in information technology and she is a physical therapist -- expects to sell its first bottles of wine in 2011, David Dunkenberger said.
Meanwhile, the owners of Maison Beliveau, a bed-and-breakfast and event center in the Catawba Valley, have planted 800 vines on their property to support a future winery. Yvan Beliveau directs the Myers-Lawson School of Construction at Virginia Tech. Joyce Beliveau, who has a master's degree in counseling and leadership experience, is running Maison Beliveau. The launch of their winery is several years out.
For the Obisos, the Eclipse Winery project represents a professional and recreational diversion from day jobs in which he is a biosciences consultant and she is an architect.
They expect the business to produce income someday and, hope it'll be a lot of fun -- not to mention a tourist draw and enhancement to area property values.
Right now, they await word on a rezoning request pending before the Montgomery County Board of Supervisors and expected Nov. 12. Early indications are good: The planning commission voted 9-0 to recommend designating 9.5 acres of the couple's land for agricultural use.
Growing grapes and making wine would then be legal.
The land in question was once designated for five rural homes. A cul-de-sac was put in, but not the housing.
The Obisos' purchase of the property _ which abuts 7 acres of Obiso property already farm-zoned _ has pleased neighbors who like
the winery project as a better alternative to a subdivision.
"We have enough homes in the area," said resident Deborah Akers, who lives beside the future winery. "I think something like this is good for the area ... I look forward to seeing the grape vines grow."
The Obisos expect to spend $1 million to complete their project, $300,000 of which they would like raise from outside sources. The raising of outside funds has been delayed by the recession, the couple said, which has pushed back the construction of winemaking infrastructure by about a year.
But they've begun the project.
They have planted 2,000 vines including cabernet franc and chardonnay. This year, the vines sprouted long stems, green leaves and fruit. Workers snipped away the grapes when they were still green and small, however, to focus each plant's energy toward root growth.
Since then, buds that represent the 2010 harvest have appeared. The buds appear as gray knuckles on spindly brown vines that make rows behind the couple's house.
The vineyards of Eclipse Winery will be in walking distance of the Obiso home.
"The buds are setting. Everything is looking good," Rik Obiso said.
At one time, the couple hoped to crush and make wine from the 2010 grapes. Now it is looking like they will take the grapes to a crushing facility in Keene, near Charlottesville, next fall and make wine there.
Eventually, the couple envisions having a farm winery open to visitors, attracting slightly fewer than 20 vehicles a day, according to their business plan. There will be a tasting room and a barn with a metal roof in which to make the wine. They chose a barn, which Melissa Obiso designed, to fit with the rural surroundings.
"We certainly don't want a Tuscan villa in Riner," she said.
Copyright AP - Associated Press