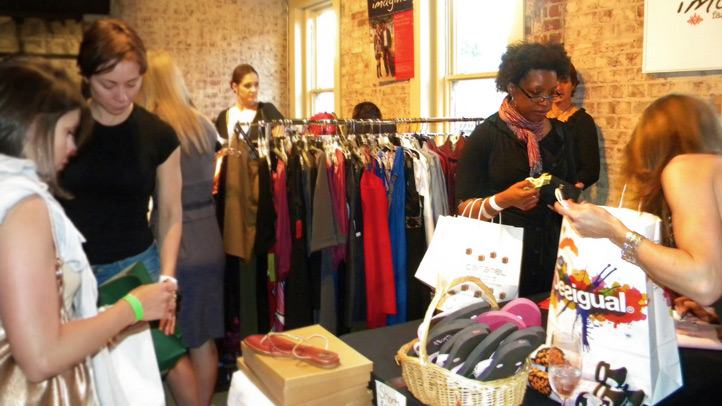 The twice-annual District Sample Sale heads to a new location this time around, now at 2101 L St. N.W. this Tuesday, March 29. If you're new to DSS bliss, or even if you could just use a refresher, here's a few tips to get the most bang for your buck tonight.
First off, there's $10 flat-rate parking at the building's garage (the entrance is on K Street), so you don't have to sweat that. VIP entrance starts at 5:30 p.m. and general admission begins at 6:30 p.m. Be in line about half an hour before your scheduled start time.
So, ready for your chance to score some serious deals on designers you'd never be able to afford otherwise, like DvF, Theory, Susanna Monaco and Milly? Before you go, check out the District Sample Sale site to see which participating shops -- then make a beeline for those booths when the doors open.

Local boutiques each have their own booth or set-up, and they all accept credit cards, but generally they're using those old-fashioned swipe machines with all the related carbon paper and delays. To maximize your time running from booth to booth, we definitely recommend cash. The sooner you can breeze through a booth, the sooner you can thwart anyone who might grab those Tory Burch flats from right under your nose.
Most booths also have a changing area... uhhh, we meant, a black curtain held up with binder clips. Wear something simple, like a body-skimming dress, so you can pull shirts on over, or pants on underneath.
The previous M Street location was also notoriously hot, so we'd be advising you to dress for the tropics -- but who knows what the new spot will bring. It's all about speed, stealth, minimal sweating, and -- if possible -- the ability to not flash 200 other women.
Once you've snapped up all your deals, then it's time to enjoy the appetizers, cupcakes and cocktails aplenty.
And if you haven't gotten your ticket yet, we're sad to tell you that it's too late for this time -- but send planners an email so you can get the jump on fall's event.
---
Check Out the Scene: Keep up with what's happening in the D.C. area anytime, anywhere. Follow us on Twitter and Facebook. Sign up for our e-mail newsletters, download our iPhone app or join our Flickr group.