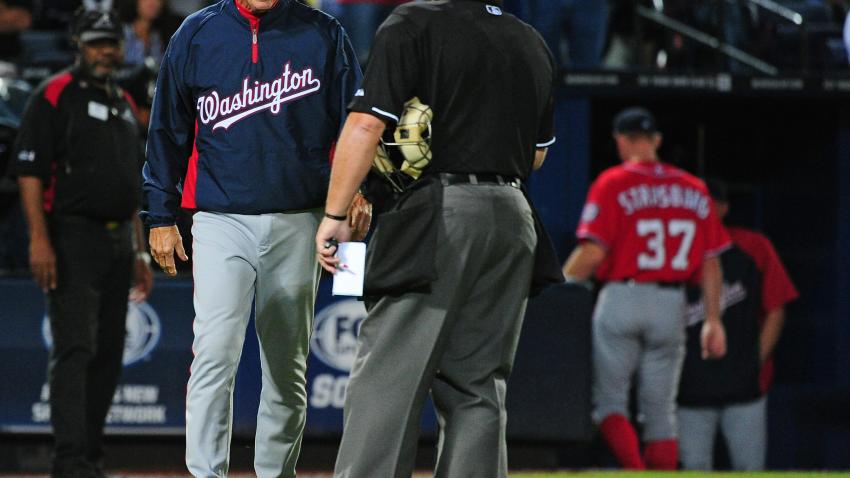 Okay, so maybe the headline was a bit misleading; Strasburg didn't go on some sort of Braves-induced rampage. You know what I mean.
Anyway, after allowing Bryce Harper to be plunked by three different Braves pitchers without any form of retaliation, the Nationals finally stood up for their star when Strasburg beaned Justin Upton with a 97-mph fastball. Both teams were issued warnings.
In the second inning, Strasburg threw three consecutive wild pitches, two of which flew behind Andrelton Simmons and allowed Jordan Schafer (who Strasburg walked on four pitches prior) to score from first. As Strasburg ran towards home plate to cover as Schafer bolted from third, home plate umpire Marvin Hudson tossed him as well as Davey Johnson, who was a casualty of the aforementioned warning.
It's not like Strasburg, who entered Saturday's game having only thrown three career wild pitches in 146.1 innings, to lose all control, so Johnson wondered if his ace was hurt.
"The first thing I said when we were both in [the clubhouse] was, 'Are you hurt? Is something wrong with you?' " Johnson told reporters. "He said, 'No. I'm just out of sorts.' "
The Nationals better hope so, though they ultimately didn't need Strasburg as they used eight pitchers to squeak out an 8-7 victory over the Braves in 15 innings.
When asked after the game if he meant to hit Upton, Strasburg was brief.
"I'm not going to get into that," he said.
---
Follow Adam on Twitter @AdamVingan and e-mail your story ideas to adamvingan (at) gmail.com.