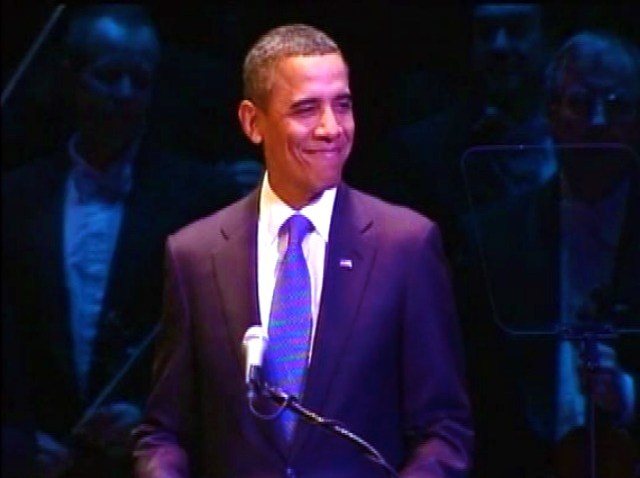 President Barack Obama says that although 50 years have passed since John F. Kennedy's inauguration, there is something about that Jan. 20 that still feels immediate.
Obama paid tribute Thursday night to what he said was Kennedy's soaring vision. He spoke at a gala celebration marking the anniversary and held at the performing arts center named for the 35th president that sits on the bank of the Potomac River.
About 100 members of the Kennedy family were also in attendance. It opened three weeks of performances that will recreate moments from those "Camelot'' days. Obama, in opening the concert Thursday night, paid tribute to the "unfinished life'' of JFK and said his inauguration and his accompanying call for Americans to serve their country still "inspires us and lights our way.''
Obama, who wasn't born until later in 1961, hailed Kennedy for leading a "volatile America in this tinderbox of a world,'' with a steady hand, "defusing the most perilous crisis since the Cold War without firing a single shot.'' He also noted Kennedy's work to help blacks attend their choice of college, launch the Peace Corps of goodwill ambassadors around the world and set America's sights on landing on the moon.
Though the country faces different challenges today, Obama said, "we cannot forget we are the heirs of this president who showed us what was possible. Because of that vision, I can stand here today as president of the United States.''
Cellist Yo-Yo Ma performed Thursday night, along with Paul Simon, the American Ballet Theatre and others. The National Symphony Orchestra played a new composition, "Remembering JFK (An American Elegy),'' by Peter Lieberson. As part of the it, Morgan Freeman read from Kennedy's famous speeches, including his inaugural address and his call for world peace at American University.
JFK's three grandchildren, Rose, Jack and Tatiana Schlossberg, read Robert Frost's poem, "The Road not Taken,'' from the inauguration, and Simon sang "Sounds of Silence,'' which was written in the aftermath of Kennedy's assassination.
The Kennedys believed the American culture had come of age and could lead the world, Caroline Kennedy said. Caroline said she can remember as a young girl seeing dress rehearsals for ballet and musicals staged in the White House, though she can't recall the famous performance by cellist Pablo Casals. Yo-Yo Ma will recreate that performance Jan. 25.
"I think I was probably already put to bed when he started to play,'' she said of Casals.
Copyright AP - Associated Press