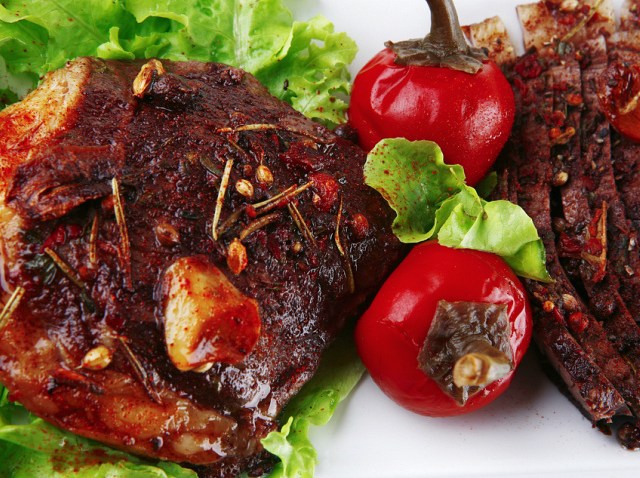 Ah, the smoky aroma of roasting flesh.

If you're salivating -- instead of running for the grassy, mushroom-rich hills -- you'll want to check out the weekly spit roasts, Thursdays through September at CommonWealth (1400 Irving St. N.W.).

CommonWealth is a self-described gastropub, a "chef-driven, British-inspired, American-bred restaurant with a Public House atmosphere." Translation: The usual deep-battered-greasy-fried fish 'n' chips are not the speciality here.

This is an equal opportunity spit, featuring dark meat, white meat, and the other white meat. Straight out of the market and on the menu this fall: lamb, pork shoulder, roast beef, turkey and good ole chicken.

It's also a modern-day, high-tech spit, since the meat selection du jour will be posted on Facebook the morning of the roast.

For $15-$18, you can sink your teeth into the tasty meat and a potato-inspired side from 5 to 10 p.m.

Looking for more than meat and potatoes? The Gastropub has expanded its "Snacks" menu. And these aren't American snacks like peanuts and pretzels. We're talking orange-chili glazed duck wings, grilled baby octopus with summer relish, and house-pickled trout. Sometimes "vegetables" are available, like Hummingbird Farm heirloom tomatoes (and remember, it's toe-MAH-toes).

---
Let's Go Around Town: Keep up with what's happening in the D.C. area anytime, anywhere. Follow us on Twitter and Facebook. Sign up for our e-mail newsletters and find out What You're Doing Tonight with texts delivered right to your mobile phone -- just text DCTONIGHT to 622339 to sign up. (Message and data rates may apply.) Don't forget our iPhone app!