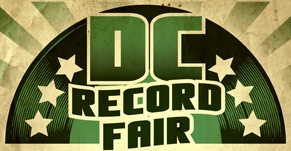 Vinyl nerds from Virginia, Maryland and near Pennsylvania are descending on U Street Music Hall today for the D.C. Record Fair -- an event that is as much a concert as it is flea market.

John Davis of Title Tracks, Matty Taylor of Tennis System and David Malitz of The Cheniers (and the Washington Post's Style section) were among the DJs spinning records as shoppers browsed bins.

The Record Fair -- the umpteenth hosted by the Vinyl District, Som Records and DC Soul recordings -- has grown with every iteration. This fair has more than 20 vendors from around the region.
At the same time, the price has crept north. Tickets for the fair are $5 from 11 a.m. to 12 p.m. and then $2 from noon until 5 p.m. There was not a premium hour at the D.C. Record Fair in April.
But call it a happy hour. Serious record fiends will gladly pay the price for access to bins of records before the crowds arrive to pick them over.