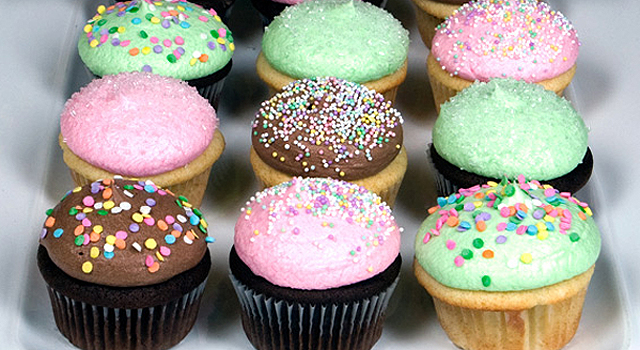 Something Sweet opens today at 3706 Macomb St. N.W. And anyone who tries to argue that there are already ENOUGH cupcakeries in D.C. is NOT our friend and you're totally uninvited from our birthday party.
Step into the new pink-and-green bakery for delicious baked goods from Jetties' Meghan Blair. In addition to the seven daily varieties of Blair's fave cupcakes, you can indulge your sweet tooth with any of the following: brownies, cookies, old-fashioned layer cake, tart yogurt, biscotti, coffee and sodas. What's more, you can also escape the D.C. humidity with frothy milkshakes, sundaes with a topping bar, and -- this is a total standout -- custom chipwiches made with daily cookie flavor.
"We want the shop to be very family friendly with an emphasis on children," Blair said. "We hope our recipes will be reminiscent of what your grandmother would bake for you in her kitchen." The shop will aslo cater to customers' specific needs -- think birthday parties and bridal/baby showers.
Located across the street from 2 Amys Pizza and Cactus Cantina, Something Sweet could be a perfect dessert destination to wash down carby delights. Hours are Tuesday through Sunday, 11 a.m.-10 p.m.