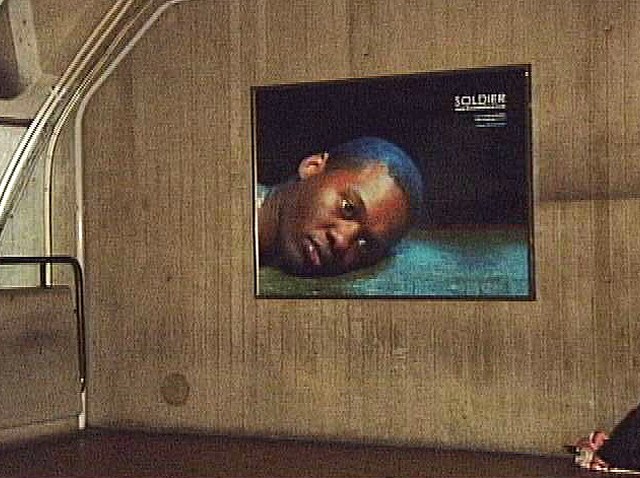 Each stark image shows a soldier from Fort Drum, New York, lying down, gazing off the frame or directly at the viewer. Some look as if they're feigning death. Photographer Suzanne Opton says focusing on each soldier's face humanizes her subjects.
"We put these billboards in eight different cities across the country because people see soldiers as heroes, and they are heroes, but they're also fathers and brothers," she says.
Afifa Taleb Dean says she's walked past the image at the Pentagon City Metro station all week and wants to know more.
"It struck my interest," says Taleb. "When I get off I usually don't pay attention to many things or see many things. It struck my interest."
Fellow Metro rider Dana Faulkner says she heard about the images and wanted to know who the soldiers were and if they were comfortable with the photos.
"Was it scary to them, to lie in a pose that sort of imitates them being dead?" she asks. "That's some place they don't want to go."
Opton will be at the Chinatown Metro stop Saturday morning explaining the photos.
Listen to the complete story at wamu.org
Copyright 2010 WAMU 88.5 - American University Radio. All Rights Reserved.
Copyright WAMUo - WAMU