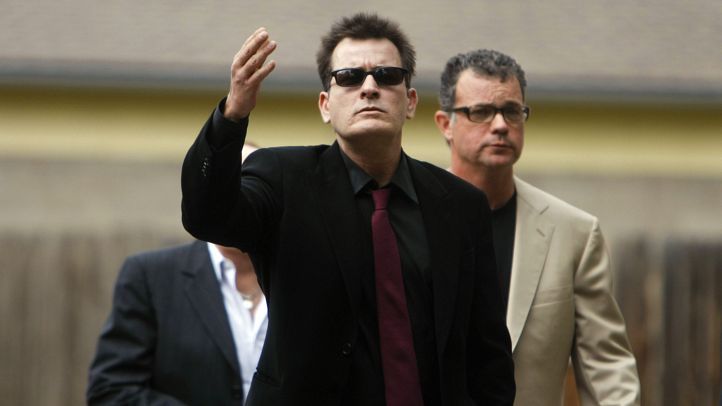 Tweetdecks were burning up with Sheen o'mania last night, well before his late arrival at DAR Constitution Hall for his "Violent Torpedo of Truth: Defeat is Not an Option" tour -- and before his opening line, "Hope you had a better f---ing day than I did; sorry I'm late."

Niteside got a minute-by-minute text account from stadium insider Michael Kosmides, who won two tickets at a brunch earlier in the month.

"Here now. Total nightmare. Delayed at least an hour. No a/c. 60 min. line for drinks," he reported. "There are at least 60 paparazzi set up on side of bldg. He's at the W drinking right now. Salahis just walked in. Paparazzi all over them," Kosmides texted. "Salahis have been posing for pics for 15 min. Oh, they're gone now."

Back to Sheen. "He says 100 pct chance he'll be back on 2 and hf men." And lastly, "Just ended. It was pure Sheenius."

94.7 Fresh FM DJ Tommy McFly didn't seem a bit concerned he wasn't actually at DAR last night, as he busily worked two Blackberries in pursuit of Sheen updates, and passed a few onto Niteside, including the following from TMZ:
"Charlie Sheen's got another bomb on his hands -- our spies in D.C. tell us people are pouring out of his show early tonight.

Maybe it has something to do with Charlie's long day -- after a child custody showdown with Brooke Mueller in L.A. court, he flew a private jet to D.C. .... arriving right before the show.

And Charlie probably thought the judge would be his toughest audience today."
Not all of the audience was that tough on him, though. "Watching Charlie Sheen on TV when he had that breakdown eight weeks ago is what started my sobriety wagon," said Ray Regan at at Cafe Milano in Georgetown. "Now he's in town, which is scary; but I'm not here on Sheen watch. I just had dinner at a table next to [former] Gov. Arnold Schwarzenegger, so I'm happy."

While the actor must have played elsewhere, Cafe Milano diners were thrilled to see the former governor, although we doubt he was on a Sheen watch, either.