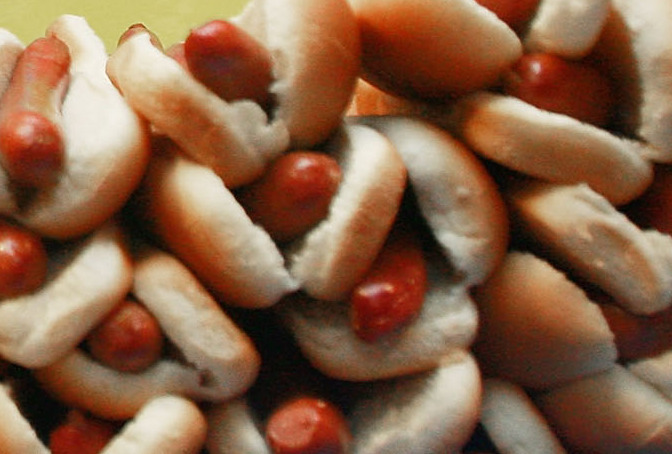 We've gotten so used to the mustard-slathered D.C. specialty of half-smokes that even the New York transplants among us sometimes forget the glory of biting into a serious New York-style hot dog: skinny and tangy, but not burn-the-roof-of-your-mouth spicy like the fat half-smokes you'll score down here.

Now a cart called Waterfront Weenies is bringing a bit of Manhattan all the way down to Old Town Alexandria, reports WTOP.

In true Capital style, the dogs are named after famous presidential canines. There's the Bo, which comes Hawaiian-style. There's the Clipper, named for JFK's German Shepherd, with comes with spicy mustard and sauerkraut. Ooh, and there's the Yuki, named for LBJ's mutt: "Your guess is as good as ours" (translation: your choice of toppings.)
The weenies are only for sale on weekends on the boardwalk, and [owner Hunter] McIntosh says he sells out every Saturday, usually by 4 p.m. The dogs are also available on the Nationals Park water taxi that departs from Alexandria.

"They're inexpensive, they're good. I serve 100 percent beef Sabrett [brand] hot dogs just like they do in all the hot dog carts in New York City."
True enough, Sabrett is the brand that New York pretty much revolves around. And unless you're gonna find yourself in Yankee Stadium any time soon, we suggest heading to Old Town if you're in need of the perfect hit of cholesterol and sodium for a mere $2.50.

The enterprising McIntosh also makes his own relishes, including a mango-peach relish. We'd like to see New York top THAT.