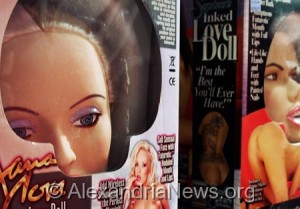 Two months after its opening and people are still talking about Le Tache, a sex shop that occupies a piece of prime real estate on King Street in Old Town Alexandria.
And that suits building owner Michael Zarlenga just fine.
"I can't say I didn't know it would ruffle feathers," he told The Washington Post.
The space used to house Zarlenga's hunting and fishing store, the Trophy Room. But after shelling out $350,000 for expansion plans that were turned down after two years of talks with city officials, a frustrated Zarlenga rented the space out to Le Tache.
City officials are now proposing changes to the zoning laws to regulate future adult entertainment stores.
Zarlenga, meanwhile, told the Post he has no regrets about renting to the sex shop, and he is selling the building to Le Tache's owners.
As for the "shuttered, dilapidated building" at Princess and Royal Streets in Old Town that Zarlenga also owns, it's just another "little slice of revenge."