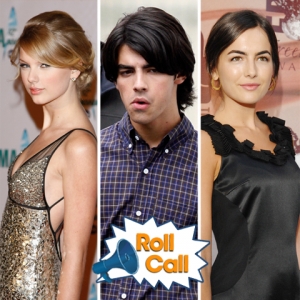 Your Daily Dispatch of Celebrity Shenanigans

Joe Jonas Responds To Taylor's Cheating Claims: The Joe Jonas, Taylor Swift and Camilla Belle drama continues! After Taylor blamed "10,000 B.C." star Camilla for her break up with Joe, the middle Jonas has taken to his Celebrity MySpace page, telling his side of the story. "I never cheated on a girlfriend," Joe wrote on Friday. "It might make someone feel better to assume or imply I have been unfaithful but it is simply not true. Maybe there were reasons for a breakup. Maybe the heart moved on. Perhaps feelings changed. I am truly saddened that anything would potentially cause you to think less of me." Expect angsty, scorned and relationships-gone-sour songs to follow on the next Jonas album.

Taylor Swift's & Kellie Pickler's Picks: When she's not busy slamming ex-boyfriends, Taylor Swift loves to hang out with fellow country cutie Kellie Pickler. The two prepped for their big night at the CMA's on Wednesday "listening to Britney Spears and Justin Timberlake," Taylor told People. It appears Brit and JT are good music to do your hair to. "We were just in the dressing room together and hair's flying everywhere," she added. Quite the battle of the "Idol" blondes!

Madge, Posh & Becks Get Their Nobo On: Madonna joined Victoria and David Beckham for dinner at LA's Nobu this week while on a break from her "Sticky & Sweet" world tour, Britain's the Daily Mail reported. Madge is the latest fellow celeb the Beckhams have added to their inner circle. They've been recently spotted with Eva Longoria and Tony Parker, Kate Beckinsale, Gwen Stefani, Heidi Klum and Seal, and Jennifer Lopez. That's enough for their own celebrity soccer team!

VIEW THE PHOTOS: The Jonas Brothers
John Mayer On Proposing Marriage: "I'd Get Creative": John Mayer and Jennifer Aniston are just dating, but if and when the singer decides to pop the question, Jen should prepare herself for something interesting. "I think I'd be pretty good at that. I'd figure that out," John told OK! Magazine when asked how he would propose. "I'd get creative." We're guessing it wouldn't be the classic get down on one knee routine --- possibly skywriting? A billboard in Time Square? Onstage at one of his concerts?
Related Content from AccessHollywood.com:
VIEW THE PHOTOS: The Beckhams
PLAY IT NOW: All Access: CMA Awards Red Carpet 2008
PLAY IT NOW: Access Extended: Carousel Of Hope Ball 2008

MORE ACCESS ON THESE TOPICS: Access Express - Heidi Klum - John Mayer - David Beckham - Eva Longoria

Copyright NBCAH - Access Hollywood