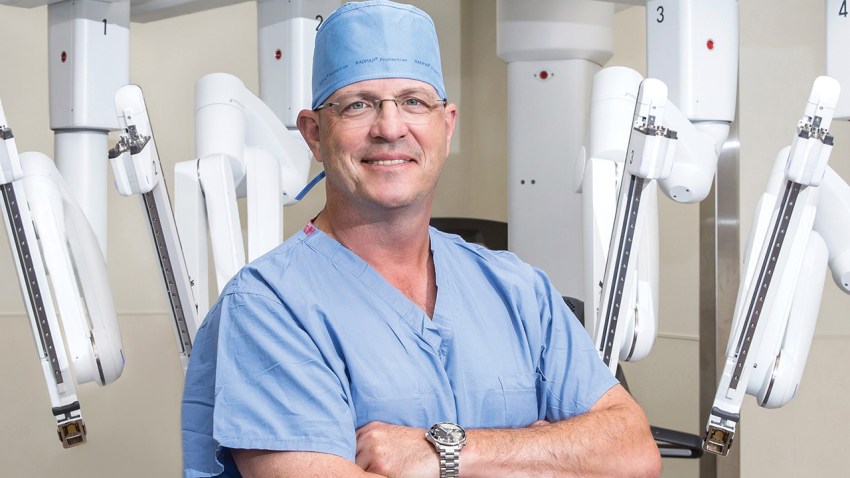 The following content is created in partnership with Virginia Hospital Center (VHC). It does not reflect the work or opinions of NBC Washington's editorial staff. Click here to learn more about Virginia Hospital Center Physician Group–Colorectal Surgery.
Robotic surgery can reduce patient discomfort and speed recovery time. But when it comes to treating colon-related conditions, less than 20% of surgeries incorporate robotic technology because most surgeons are not trained in the techniques.
Luckily for 46-year-old Sanh Leung, his stepsister had read an article about Colorectal Surgery at Virginia Hospital Center. Established in August 2006, the Hospital's robotic surgery center features the new da Vinci® Xi surgical robot and the expertise of robotic colorectal surgery expert Craig Rezac, MD, FACS, FASCRS, of the Virginia Hospital Center Physician Group–Colorectal Surgery.
"For years, I noticed blood in my stool, but I assumed it was just hemorrhoids," Sahn says. A colonoscopy showed Sanh had two masses, one in the colon and one in the rectum. Sanh was able to schedule an appointment with Dr. Rezac very soon after his colonoscopy. "He was pleasant, easy to talk to and professional," says Sanh. "I had consulted with other surgeons, but felt comfortable with Dr. Rezac."
Dr. Rezac has been at the forefront of robotic colorectal surgery, moderating robotic surgery sessions at national professional medical society meetings, teaching robotic surgery courses to surgeons and publishing extensively on the topic. "When cancerous tumors are present in both the colon and rectum, as Sanh had, treatment is highly complex," says Dr. Rezac. He first had to decide whether to treat the rectal tumor with radiation prior to surgery, which can reduce the chance of local recurrence. However, this would have delayed surgery to remove the colon tumor that was at a more advanced stage.
Sanh underwent an extensive workup and consultation with a team of specialists representing colorectal surgery, radiology, pathology, radiation oncology and medical oncology. "Our evaluation determined that it was best to proceed with surgery to remove both tumors," says Dr. Rezac. Using the da Vinci Xi, he performed the delicate operation of removing the lower sigmoid colon and part of the top of the rectum while preserving the sphincter. The Xi is a major advance in all areas of surgical technology, but it is particularly advantageous for the intricacies inherent in colorectal surgery.
Sanh was up and walking on the day of his surgery and he was home within three days. Dr. Rezac is a firm believer in performing minimally invasive surgery whenever it is medically appropriate. "If robotic surgery can be done, it should be," he says. "Patient outcomes are better. The likelihood of having complications and sexual dysfunction are significantly reduced when colorectal surgery is performed robotically."
Virginia Hospital Center has provided exceptional medical services to the Washington, DC metropolitan area for 75 years. Designated as a Magnet® hospital by the American Nurses Credentialing Center, named a Leapfrog Top Hospital in 2018 and previously named one of America's 100 Top Hospitals® and 50 Top Cardiovascular Hospitals® by Truven Health Analytics, the hospital includes numerous Centers of Excellence and is a proud member of the Mayo Clinic Care Network. Click here to learn more about Virginia Hospital Center.