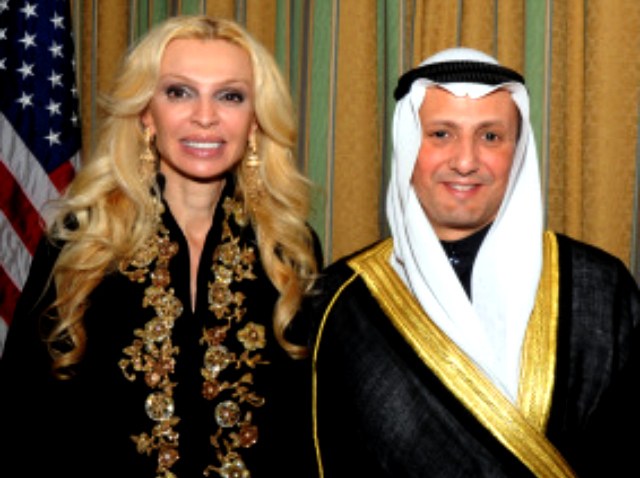 Rima Al-Sabah, wife of Ambassador of Kuwait Salem Al-Sabah, is known as one of Washington's premier hostesses -- and last night's star-studded swanky soiree at the Four Seasons to celebrate National Day of the State of Kuwait was no exception.
"She is beautiful, has a title and is the wife of an ambassador," Ina Ginsburg said last night. "She's the perfect hostess and smart. She always has a mixed guest list that spans Hollywood to foreign dignitaries. Everyone wants to go there."
White House Social Secretary Desiree Rogers, former Homeland Security Secretary Michael Chertoff and Ginsburg were among the A-lister diplomats and politicians who packed the ballroom to show support to the power couple who have been a presence in Washington throughout many administrations.
"In Kuwait, you are not recalled because as an Ambassador you are taking care of the relationship between the United States of America and Kuwait, not a certain administration in Kuwait," Salem Al-Sabah said. "It's not the same system that you have.
"We are career diplomats and go back when recalled."
Other guests were not so lucky.
Former Secretary of Homeland Security Michael Chertoff, under the Bush administration, was "recalled," so to speak.
"I now have a consulting firm with another group of former senior officials. I actually have a book which is out and came out in September," he said.
The mystery of the evening was the quick appearance and subsequent disappearance of White House Social Secretary Desiree Rogers, who was spotted skipping the receiving line, chatting with former Chief Protocol Ambassador Lucky Roosevelt for a heartbeat and departing before anyone knew she was there -- apparently including Rima.