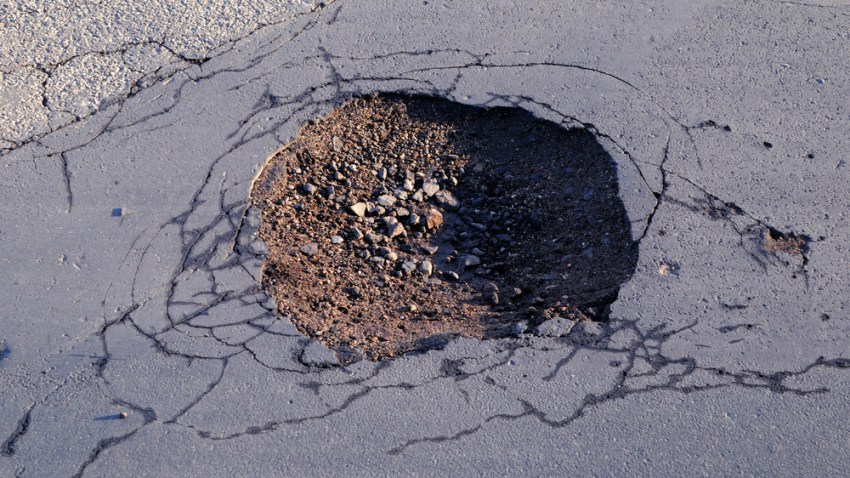 There is no truth to the rumor that potholes on D.C. area roads are actually eating cars whole. It just seems that way.
So what can we do to fight back? There are many ways you can report potholes to area jurisdictions. Here are a few to get you started:
District of Columbia:
Via Phone: Mayor's Call Center at 311
Virginia:
If you encounter a pothole on a state-maintained road, report the problem online here. You can also call 800-FOR-ROAD (800-367-7623) to report any road maintenance issues.
This should be used for Fairfax, Fauquier, Loudoun, Prince William, Stafford and other northern Virginia counties.
If the pothole is Arlington County, call 703-228-6570 or click here.
If the pothole is in Alexandria, Va., click here.
Maryland:
Want to report a pothole on a state-maintained road in Maryland? Click here.
To report potholes in other jurisdictions, use these links:
Share Your Horror Stories/Pictures:
We all have pothole horror stories -- whether it is a pothole that swallowed a tire or a hubcap that defiantly crossed three lanes.
We want to hear your stories. Log in via Facebook Connect and share your stories below. If you have pictures backing up your claim, feel free to share those as well. Upload them to your favorite photo-sharing service (i.e. Flickr, Twitpic, etc.) and paste the URL into your comment.
Thanks!