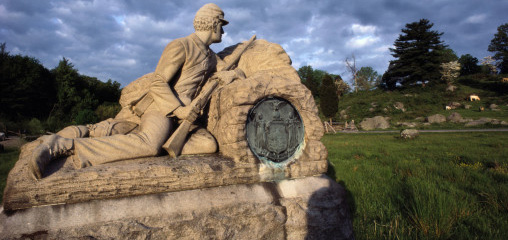 Looking for a day trip now that the weather is inspiring out-of-doors adventures?
In a few more weeks, renovations will be complete in restoring the battlefield in Gettysburg, Pa. The National Park Service and the Gettysburg Foundation want to give visitors a more authentic feel of what the area was like during the Civil War.
A "comfort station" was taken down this week. That's because it wasn't there July 1, 1863, when it took Union troops three days to win the Battle of Gettysburg. Power lines are being taken down and in some cases being installed underground. The cost of the entire project is $330,000.
It is an hour and a half or so drive from the Beltway to Gettysburg. There is a an official visitors center and lots of Civil War markers to get a glimpse back into those days of American history. One man sat on the roof of his car overlooking the battlefield and read a book about those fateful days. Now that's a substantial activity for a summer afternoon.