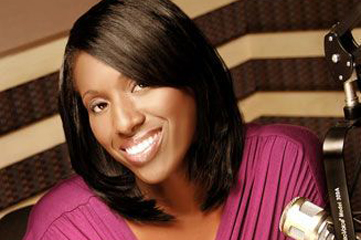 Radio personality Victoria Davis talks about life on the Russ Parr Morning Show, her beef with NeNe Leakes, and being the next Russ Parr of her generation.

Did you always know being on radio was what you wanted to do?

Not exactly, but I knew I wanted to work in media. I was a student at UDC, and one of our assignments was to interview someone who worked in radio or television. I chose to interview Russ Parr and Olivia Fox because I admired them both. [Then] I met one of the mangers at the station and got an internship.

I had my hands in everything, from street team promotions to helping the program directors out. Just when I was at the end of the rope with my internship, when bill started to pile up and I just felt like I couldn't hang anymore, I transitioned into an assistant producer role, and from there, full-time radio personality. It's been an amazing journey; I'm so blessed.

D.C. and people around the country know you as Shaqwana, but your name is actually Victoria. Where did Shaqwana come from? And you're also going by Vic Jagger now?


Years ago when I was still in undergrad, Russ asked three women at the station to play these three around-the-way girls. When he asked me my fake name, I blurted out Shaqwana. There was a lot of names I could have said, but of course I went with that one!

I used to be on my way to school or work doing these recordings for Russ in my Shaqwana voice, and everyone would look at me like I was crazy. The name just kind of stuck and became my alter ego. However, I feel like the name has put me in a box especially since people are really starting to think it's me instead of just a character. My new radio name is Vic Jagger, so I'm working on branding that.

Who besides Russ Parr and your cohost Alfredas inspire you in the radio industry?

Wendy Williams! I love her because she didn't care what people thought of her, she spoke her mind and she handled her business. I have so much respect for her. Also Angela Yee and Cathy Hughes. I've also learned that you have to aspire to be that person that someone else looks up to, especially in an industry where a lot of young black female radio personalities just do not exist.

You all have the #1 morning show in the DMV area and one of the top syndicated morning shows in the country. What's the winning formula?

I think we play our position well and we just mesh together. Russ runs the ship and he's very good at directing us. I think another thing that keeps us strong as a show is staying humble, and we have Russ to thank for that. For all that he's accomplished, he's one of the most humble people I know.

There's been hundreds of celebrities to come on the show. Who are some of your favorites?

There's so many, but a few of my absolute favorites are Lionel Richie, Mary J. Blige, Kevin Hart, Fantasia and Chris Brown. Chris especially holds a special place in the shows heart because we knew him before he blew up. I remember on our annual bus tour years ago he was in the crowd and told us he'd be up on the next year. A year to that day he was performing his first single.

Speaking of guests, you recently got into an on-air spat with "Real Housewives of Atlanta" and "Celebrity Apprentice" star NeNe Leakes. You didn't seem intimated by her at all.

You know what, I've been brought up to not let anyone take advantage of me. There's no way I'd let another woman ever get in my personal space and talk to the way she has to others on television. That's why I told her, "You got the right one." I wasn't going to let her keep going and talking to me like that. Like, yes, she can be intimidating to some people because of her height and the fact that she's loud.

I feel like we were giving her an opportunity to dispel rumors and she took it as something else. You will not disrespect me, I learned that lesson with Kanye West live on air and promised myself I wouldn't do it again.

What happened with Kanye?

He was on the show discussing the perception of him when he first came out as an artist and he was going on and on. Russ told me to bring the conversation back to the album, so I jumped in and he blew up at me. He said, "Don't interrupt me while I'm talking," and went on. I was so upset that I smacked my mic away.

Three years later he was on the show for something else and we played the audio back for him. He apologized. I said, "Now, OK, I can take your album back from the trash." [laughs] I know he wanted to say something but he didn't. I'll never let anyone go in on me like that again.

What's your ultimate goal; what do you want people to remember you for?

I've always said the money will come as long as you're doing something you love. My favorite part of doing my job is knowing that I'm bringing comedic relief to someone's life. When listeners walk up to me and tell me they were having a rough morning, but I made them smile or just even asking for a hug, I know I'm doing something right. I want to always be known for making others happy. My ultimate goal is to be on television with a show of my own. I'd like to be the Russ Parr of my generation.