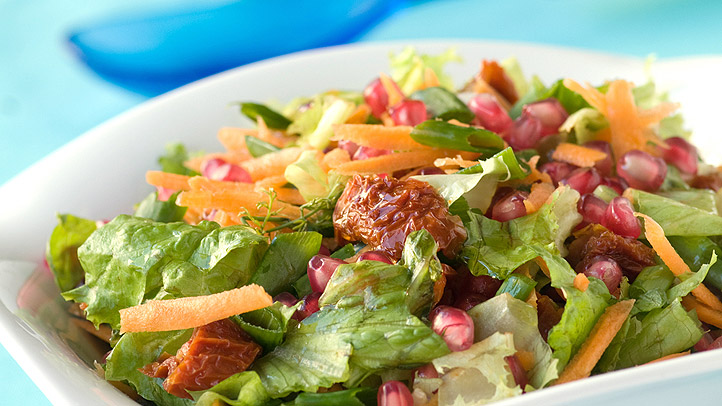 I always thought if you told someone, "You eat like a rabbit," it was considered an insult -- but Aaron Gordon, co-owner of Red Velvet and Tangysweet, and Consulting Chef Katsuya Fukushima have embraced the positive attributes of a bunnyhood in opening the new Rabbit (3025 Clarendon Blvd., Arlington).

Located literally across the street from the Clarendon Metro stop, Rabbit, living up to its namesake, is adorable. Its floor-to-ceiling windows and blanched rustic wood tables give off a sun-drenched, cozy feeling -- more California than D.C.

The only thing typical to D.C.? The standing-in-line part. Rabbit isn't a sit-down spot, but I can't really complain about the wait. Despite it being lunch hour, I didn't have to wait long.

The menu is simple and straightforward. Chef-crafted salads ($10.50), simple salads ($5.50), "grilled goodness" ($7.50), hot plates ($12.50) and sandwich plates, which come with a side salad ($10.50).

From the "grilled goodness" section of the menu, I ordered the Croque Monsieur. Made with prosciutto, swiss and bechamel on a thick, simple bread, the sandwich was evenly cheesy and piping hot. The side of herb salad was basic and had little texture; still, it complemented the hearty sandwich and I finished my meal feeling full but not weighed down.

While I wasn't disappointed with my order, I was absorbed by other patrons' orders of salads. The portion size was enormous -- the chef-crafted salad was literally the size of a human head! I don't think there would be any way I could finish one, but you have to admit people love a challenge.

I do plan to give them a try next time, particularly the "peach + prosciutto" salad made with arugula, grilled peach halves, sliced prosciutto, ricotta, toasted hazelnuts, drizzle of honey, cracked black pepper and balsamic vinaigrette.

I enjoyed Rabbit for what it was, a "slow food fast" restaurant. It definitely is a cute addition to the rapidly changing Clarendon food scene.

If you are really hungry for desert, keep in mind the spot also serves up cupcakes from Red Velvet. Of course, this negates all the healthiness you just chose at Rabbit, but the cupcakes are great, so maybe the trade-off is worth it.
---
Check Out the Scene: Keep up with what's happening in the D.C. area anytime, anywhere. Follow us on Twitter and Facebook, sign up for our e-mail newsletters, download our iPhone app or join our Flickr group.