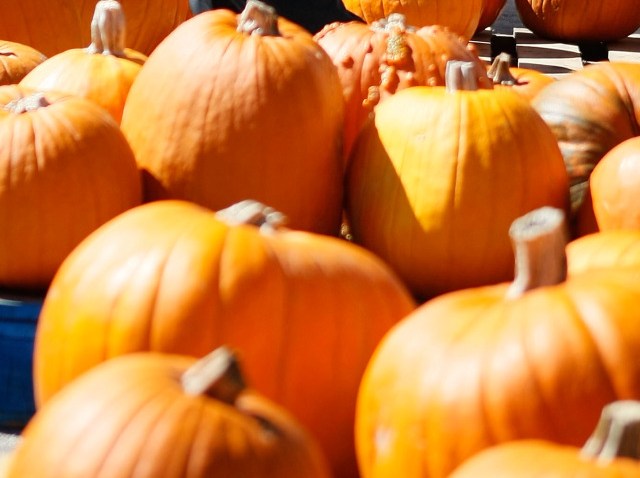 Pumpkins aren't just for carving up and baking in pies.
Pumpkins, along with other fruits and vegetables, that can make up botanical-based beauty products are "serious skin care," according to June Jacobs, founder of an eponymous all-natural product line.
Pumpkin, for instance, is a strong antioxidant and exfoliator, while cranberry's vitamin C can help prevent bacteria from growing on the skin, which is good for people with acne-prone or combination skin, she explains.
Someone with sensitive skin would fair better with papaya enzymes, which also can clear dead skin cells, but is gentler and more hydrating.
These fruits aren't the only garden ingredients that are good to use in beauty products though. Others include:
Apples -- Dr. Ana Mercedes Ciurea, a dermatologist and assistant

professor at The University of Texas M.D. Anderson Cancer Center, says she's surprised the fruit, which can be a good conditioner and toner, isn't more popular in skin-care products. Apples have vitamin C, which has been shown to protect and repair skin cells, without the drying effect of citrus fruits such as lemon and grapefruit.

Wheatgrass -- It's good for you -- inside and out, says Helen Ambrosen, the science coordinator and co-founder of cosmetic company Lush. She recommends wheatgrass for dry and mature skin because it is reparative and fights free radicals.

Bananas -- "It's a gentle, inert fruit that can be used on the skin and hair,'' says Ambrosen. Mashed banana is moisturizing, calming and soothing -- and can be mixed with oatmeal and honey for a face mask, she adds. A lesser known trick is to use a bit to tame dry, curly hair.

Turmeric -- This tropical root is a key ingredient in curry powder, says alternative-medicine researcher Joerg Gruenwald, but, perhaps surprisingly, it also is used in Malaysia as an anti-inflammatory and a healing ingredient.

Watermelon and tomatoes -- Both are sources of lycopene, which Ciurea says is a powerful antioxidant. ``My grandmother used to crush tomato and put it on her face -- and her skin was gorgeous,'' she says.
Before you concoct your own fruit or vegetable facial, you should know there's probably as much risk of an allergic reaction to a fruit-, vegetable- or other plant-based ingredient as there is to a chemical one, says Ciurea, who adds that she has seen contact allergies develop.
(She recommends testing any new skin-care product on the inner side of the arm. It's similar to the skin on the face but it's not usually as unpleasant and obvious if you do have a reaction.)
Ciurea also says the botanicals could be skin-care successes. She's a user of a lotion with green tea and berry extracts, which she finds calming, and she's a fan of aloe vera's healing and anti-bacterial properties.
Oxford University-based Gerry Bodeker, an adjunct professor in public health at Columbia University who teamed up with Gruenwald on "Health and Beauty from the Rainforest'' (Didier Millet), says the herb Pegaga or gotu kola, sometimes eaten as a salad leaf, is well known for what it can do for skin quality, elasticity and skin repair. It can be ground with a mortar and pestle and used as a scrub with a base of rice flower and coconut oil, he explains.
Mathilde Thomas, founder of French skin-care brand Caudalie, has a half-dozen uses for grape byproducts, including vine sap, used to lighten dark spots; vine stalks, which contain the anti-aging molecule resveratrol; grapeseeds, for their antioxidant polyphenols; and moisturizing grape water, which is extracted after grapes are pressed but before the liquid is fermented.
Grapeseed oil is rich in fatty acids, another moisturizer, Thomas explains.
Consumers feel comfortable with fruit and vegetable ingredients because they understand what they are, how they grow and how they're used, says Lush's Ambrosen.
However, she adds, she doesn't think the initial appeal of familiarity -- not to mention often a pleasant scent -- wouldn't last
if they didn't work.
"I feel as a formulator, you should use beautiful things, but, if at the end of the day, the product isn't beneficial, then people aren't going to use it.''

Copyright AP - Associated Press