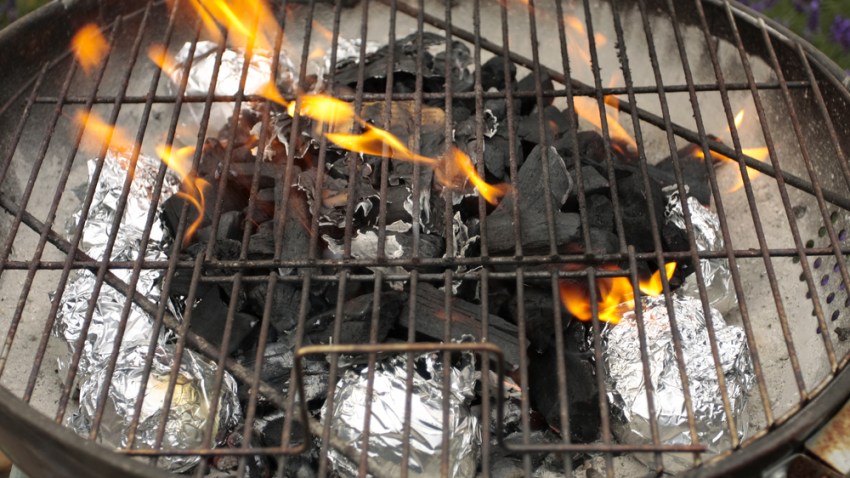 A couple of favorites for the grill from Belga Cafe chef and owner Bart Vandaele.
Potato Bacon Beer Salad
Ingredients
1 pound of Fingerling Potatoes (Salt, Thyme, Laurel, Garlic for Boiling)
1 bottle Blanche de Bruxelles
½ pound of Bacon Lardoons
4 tablespoons Parsley
6 Tablespoons Mayonnaise
2 Hard Boiled Eggs (chopped)
2 tablespoons White Vinegar
Salt & Pepper
Method
Boil the potatoes with salt, thyme, laurel and garlic. Let them cool off and then cut into small. Bake the bacon lardoons until crunchy and let cool. In a bowl mix the mayonnaise, beer and vinegar. Add the rest of the ingredients to may mixture and toss, adding salt and pepper to taste. Refrigerate to chill and serve.
Belgian BBQ Mussels
Ingredients
2 pounds of Prince Edward Island Mussels
8 tablespoons garlic butter (garlic butter can be made by combining butter with garlic, parsley, salt, pepper and a touch of lemon juice)
1 small bottle St. Feulliene Season Beer
1 tablespoon each of fresh parsley, chives, basil (chopped)
3 small spring onions
Salt & Pepper
Method
Grill the spring onions. Heat a mussel pot on the grill, bringing it to high heat. Add the mussels with salt and pepper to taste, then add garlic butter. Stir in the bottle of beer and put on lid to keep in juices. When mussels open (after about 5 minutes) add the fresh herbs and grilled onions and serve.