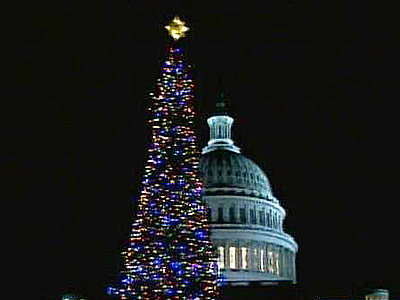 It's hard to think about Christmas when it's 90 degrees outside. But the folks in charge of the Capitol Christmas tree had an important decision to make, and they couldn't wait for temps to take a dip to make it.
They picked this year's Capitol Christmas tree from Bridger-Teton National Forest in Western Wyoming. The tree is a 67-foot Engelmann spruce. The superintendent of the Capitol grounds, Ted Bechtol, picked the winning tree on Friday from 10 finalists. There were 23 trees nominated for the honor.
Bechtol is keeping the exact location a secret until a cutting ceremony in November. We wouldn't want anything unexpected to happen to the tree between now and then. Bechtol told the Jackson Hole Daily that he had a lot of good choices, and that's not always the case. He said it's an aesthetic judgment and he wanted a good, healthy tree.
Accoring to the Daily, this is the first time the Capitol Christmas tree has hailed from Wyoming. But a Wyoming senator had lobbied for the honor in the past. In addition to the Capitol Christmas, the Bridger-Teton is providing 75 smaller trees for various offices around the Capitol. Wyoming residents will provide more than 5,000 ornaments.
At the cutting ceremony, the tree will be crated and loaded onto the back of a trailer for its road trip across the country. Bechtol will oversee the placement of the tree at the Capitol in early December. And it will take two to three days to hang ornaments and lights on the tree.
Christmas seems far away now. But as you know, summer tends to fly by and that cooler weather you've been aching for will be here before you know it. Maybe this will inspire you to start your Christmas shopping early...