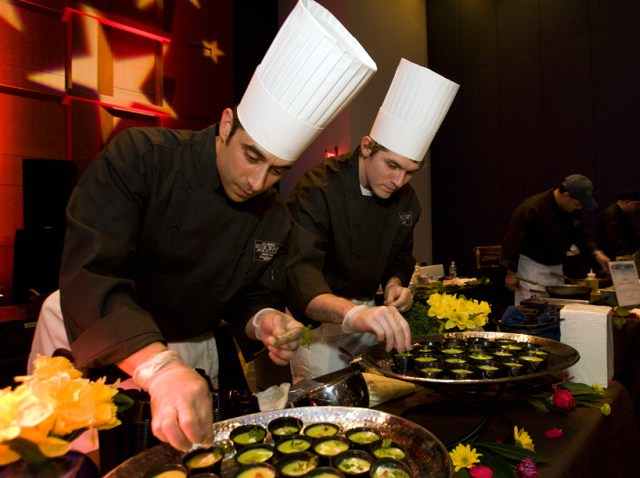 It's hard to believe any American would ever go hungry in these days. But hunger is on the rise, and the Capital Area Food Bank tries to address issues of persistent hunger and malnutrition. The Thurgood Marshall Ballroom at the Marriott Wardman Park was packed Sunday night for the seventh annual Blue Jeans Ball. Tickets were $150 for the "come as you are" event, where jeans were the norm, high heels optional, and comfort encouraged.
The event kicked off with a cocktail reception, silent auction and a vote for best cake. Only two cocktail stations serviced the crowd, but there wasn't much of one when we arrived. But once the doors opened at 7 for the dinner portion, the venue quickly became packed.
Two wings of the main ballroom housed a variety of food and desserts. The wing stage left was overwhelming in its traffic. Our favorites included the heartily flavorful seafood gumbo from Eatonville; the nicely textured barbecue pulled-pork sliders from Jackson 20, and the coconut panna cotta from Sequoia, a thick contrasting statement of fresh flavor and artifical sweetness.
Surprisingly, the longest line -- at least 20 people deep -- was for the Marriott Wardman Park's burger station. The overwhelmed and overworked chefs at that stand delivered to us an almost-raw, way-too-salty burger, so we can only deduce the line was because the portion size was large.
However, considering Goodstone Inn & Estates outdid themselves with an extraordinary plate of a full lamb chop on a bed of mashed potatoes, we have to wonder that maybe this crowd was seeking comfort food. Mitch and
Debbie Moser
presented a wonderful selection of meats from their locavore
Bethesda
Central Farm Market.
The right wing had fewer bodies, but it wasn't because the food didn't deliver. We think people just didn't know there were two wings!Georgetown Cupcake was the signature name with a rapidly disappearing stand, calling to mind the movie "
Gone in Sixty Seconds
," or in this case, gone in 60 minutes. We also particularly liked the authentic Greek food served up by Angeli Gourmet by Athens Grill, a restaurant we don't often see at these big foodie events, and Morso, a cool Turkish restaurant on M Street in
Georgetown
,
We heard numerous "complaints" about how full people were, but the best comment came from one of the restaurateurs present: "I've never seen so many people pigging out for hunger."